PREPARE!
Do Something!
Other things
"
Other things
POLITICS OF LIFE AND DEATH
Thursday, March 31, 2005
Warning: This article makes many generalizations and is not intended to offend. It is simply food for thought. During the Terri Shaivo ordeal that has captured the nation's attention, it was noted that the position one took often ran down ideological, dare I say, even partisan lines. Looking at it clinically, you either thought she should be left alive or allowed to die. People on the "right" thought that she should be allowed to live and that to take away her food and water would be tantamount to murder. People on the "left" thought that her suffering should be put to an end, and that no one would want to live in the state she lived in, therefore let her die in dignity. Right and Left, Blue and Red In my conversation with most on the left, one recurring theme has revealed itself over and over. Rights, freedom to do what one feels right, instant gratification, and emotional affirmation seem to be important to the left. If this is true, then primary motivators in the left psyche is a centrality of self and the quality of living. In Terri's case, she may have been suffering or unable to do things that bring self-fulfillment, therefore what does she have to live for? My personal moral code indicates to me that I have been placed on this earth, not only to enjoy the fruits of it, but to serve God and others in any capacity I can. My personal faith states that I would definitely be better off dead, but while I still have breath I have the opportunity in some way, shape or form to serve others. This mindset is often found on the "right". From this perspective, a good example of this is Christopher Reeve. Christopher the paraplegic accomplished far more than Christopher the superman ever did. A life of purpose, rather than randomness and self-centrality, changes one's perspective on the value of a life. Terri may have been in the condition she was in for a purpose--possibly to teach others, give her parents purpose, or for a myriad of other reasons. (Please don't bring such superficial issues into this as "she wouldn't want to be a burden to society, family, etc. I get tired of the false martyrdom being bandied about the net).] NOTE: This article subject to revision. Comments welcome.
posted by Jack Mercer @ 3/31/2005 05:15:00 PM


FREE LIVING WILL FOR SC RESIDENTS
If you delay, then you may have to pay a lawyer to do this in the immediate future. ACT NOW!
posted by Jack Mercer @ 3/31/2005 05:13:00 PM


Magniloquent
Since the Snipet is all about straight shooting, the word of the day is: magniloquent \mag-NIL-uh-kwent\, adjective: Lofty or grandiose in speech or expression; using a high-flown style of discourse; bombastic. On the Snipet we try to avoid magniloquence.
posted by Jack Mercer @ 3/31/2005 09:03:00 AM


IMMEDIATE CALL TO ACTION!
I ran across an issue preparing a tax return for a teacher at X School as part of my VITA site that makes me mad, so I'm sending this out to you to (1) inform you of the issue and (2) request that you contact your Congressman about the how unfair this is. This particular teacher is a foster parent. She has had 54 foster children in her home. During 2004 she had a child for 10 1/2 months. Apparently the IRS in its infinite wisdom has recently changed the tax code that if a foster child is not in a home for a full twelve months the foster parent cannot claim that child as a dependent and therefore also loses the ability to qualify for the credit for childcare paid for that child. The state has also stopped subsidizing childcare for foster children. This long time foster parent just can't afford to do this all on her own and this last child may be the last one she is able to take in to her home. She is a single woman and a wonderful mother and the system will be losing a great asset! So - if this concerns you - please join me in sending a letter to your congressman regarding this issue and how you feel about it. We need more foster parents, not less and the current rules are making things worse not better. H.W. ADDED BY THE SNIPET: You can take action two ways. 1. Look in the left hand column for the box that says "Contact Congress". Enter your zip code and you will be immediately routed to your representative's email addresses. Or 2. Do #1 above, and cut and past this letter into your representative's email. (Please note to change the greeting to the appropriate name) Dear (Representative's name): On March 29, 2005 a foster care mother was charged in the death of a foster child in Anderson County, SC. While all of the circumstances may be unknown, it may be evident that appropriate foster care is being threatened by recent and ongoing legislation. Scarcity in appropriate foster care may rise if recent IRS guidelines are allowed to stay in place. Current legislation prevents foster parent's from claiming a foster child as a dependent or a credit unless they are in the home for a full 12 months. This year, a foster care mother was denied both dependency and credit even though the child was taken care of and lived in the home for 10 out of the 12 months. I am appealing to you as my representative to review and oppose this recent legislation as it threatens to narrow the pool of qualified candidates willing to provide the services of a foster care parent. Respectfully,
posted by Jack Mercer @ 3/30/2005 04:08:00 PM


AS LIGHTNING BUG WOULD SAY...
DA SNIP CALLS IT AGAIN! Several posts back the Snipet pointed out that there were constitutional and legal irregularities in the Terri case. There would be no new hearing unless there were suspected irregularities. My Way News: "A federal appeals court early Wednesday agreed to consider a petition for a new hearing on whether to reconnect Terri Schiavo's feeding tube."
posted by Jack Mercer @ 3/30/2005 07:44:00 AM


AMERICAN LAURA BUSH
Not So Pure I love First Lady Laura Bush. If someone were to ask me to design the perfect first lady, I would respond, "Not necessary -- we already have one." Laura Bush appears to be strong, sweet, humble, smart, pretty, happy, optimistic, apolitical - all of the things I want a first lady to be. She's as close to being "pure" as a first lady can be. That was yesterday. Today, she's not quite as pure, and I'm mildly disappointed. Yesterday, Mrs. Bush flew to Afghanistan to do something she says she has wanted to do for a long time - to tell the Afghan women that America stands with them. Seems innocent enough. But it's not. In Afghanistan and other Muslim nations, women don't have the same rights as men. That's changing in Afghanistan, and that's a good thing, as long as it's their idea and not ours. A recent 60 Minutes report on CBS focused on the progress of, or lack of, women's rights in Saudi Arabia. It was not surprising to hear the opponents of new rights for women accusing the United States of being behind the women's movement in Saudi Arabia - and trying to force U.S. values on their country. They may be right, and even if they are not, we shouldn't give them ammunition to make the charge. We Americans have become a very self-righteous lot. We didn't always give equal rights to women or minorities. Now that we do, we think everyone should follow our example, and we're not satisfied with just setting a good example. We think it's our role on earth to try to teach and persuade other countries to follow our example, as if we're the good parent and they are our children. The world is not one family or one culture. It is a collection of widely varying cultures, each with its own set of evolving values, and each responsible for governing itself. When we in the U.S. try to impose our values and culture on other countries, it is certain to breed resentment against us. Americans don't much appreciate it when European countries lecture us on such things as the death penalty - most of them don't have it and think it's barbaric. We don't much care what they think, nor should we. We also don't like it when our Supreme Court consults international court decisions when deciding the constitutionality of U.S. laws and actions. We're right not to like it. We should treat others as we wish to be treated. I will be very pleased if the Afghan people and the people of Saudi Arabia observe life in the United States and decide for themselves that it would be good to copy some of our progress in areas of civil rights, but I have no wish to lecture or lobby them to that end. Not only is it none of my business, but it fosters resentment that helps our enemies promote violence against American citizens.
posted by Jack Mercer @ 3/30/2005 06:57:00 AM


TERRI - BREAKING IT DOWN
At the risk of sounding clinical, the real issue at hand is simply a Constitutional one. There are several things to note in this case:
1. It isn't a "right to die" case because Terri's wishes are in doubt. In the absence of a living will, we can rule out the "right to die" issue.
2. Terri's medical condition is in question. There are those who say that she is in PVS and others who maintain that she isn't. While there is a question, and because of current limitations on medical science to make an empirical statement, Terri's medical condition is in doubt.
3. Life and death circumstances are not family jurisdictional. We don't own our children. Many parents think they do, but each child holds a unique status under the US Constitution that affords them protection. One is not allowed, for instance, to abuse them or kill them, or even neglect them without serious penalty. No American citizen is afforded the right under the Constitution to OWN another individual--We did away with that during the War between the States. Ownership doesn't extend to spouse either. So in reality, legally it isn't a family matter.
Where does that leave us? If there is doubt about Terri's condition, and doubt concerning her wishes in a state requiring life support, etc., then the decision passes upon the state. The burden of proof is placed upon the state to determine the outcome.
So the agent of the state was consulted--the court system in this case. Upon examination of the evidence they determined that Terri's sustenance should be removed.
Ordinarily it should all stop here, but there is a reason stopping here may be a mistake.
In all cases, something MUST be present in order for a case be determined. The case must be made "beyond a reasonable doubt".
The Snipet may be wrong, but upon review of the decision to remove Terri's feeding tube, it did not seem that the case for removal was made beyond that reasonable doubt. There are many reasonable doubts in this case, except for the mindless ideologues and armchair authorities.
If this is indeed the case, then the decision to remove the tube was one of judicial activism--a judge making law as opposed to interpreting and applying the law.

if this is the case, then Terri is simply being euthanized.

if this is the case, then we have a serious breach in her rights as guaranteed by the Constitution. (Email me if you need to know which one)
Of course, nowadays who really cares about the Constitution?
posted by Jack Mercer @ 3/28/2005 06:53:00 AM


HOMEWORK
In a letter to the Greenville News, posted Sunday, reader Dan Moravec of Simpsonville wrote, "The governor says market forces will spur competition and cause public schools to improve. Would those be the same market forces that affect our cable bills and gas prices?"
Mr. Moravec has apparently not done his homework. I'm happy to do it for him, and for other readers who might have been wrongly influenced by the faulty premise lodged in his question. The latest available date from the National Center for Education Statistics, U.S. Department of Education, shows the total expenditure per pupil in average daily attendance in 1970 was $955. In 2002 it was exactly 10 times that amount, $9,553 - a 900% increase in 32 years. According to the Bureau of Labor Statistics, which keeps track of consumer price information for the government, the price of gasoline during the same period increased by 315%. Granted, the price of gas has jumped rather sharply as of late, but it would have had to triple since 2002 to catch up with the historic increase in the cost of elementary and secondary education. The same comparison is not available for cable TV rates because the BLS date on Cable TV goes back only to 1984, but since then, cable TV prices have increased by 183%. Consumer prices (all items) have increased by 363% percent since 1970, while the cost of educating a child in public schools has jumped 900%. Here is a more complete comparison of price increases between 1970 and 2002: · Public Education 900% · Medical care 740% · Airline fares 716% · Housing 395% · Energy (for homes) 393% · Food (away from home) 375% · Food & Beverages 340% · Gasoline 315% · Household furnishings 174% · New vehicles 163% · Clothing 109% Yes, Mr. Moravec, those are the same market forces that affect our cable and gas prices. Most people would also agree that the quality of nearly all consumer goods has increased over the years. It's debatable whether the same can be said for education. It's also true that most price increase have been well below the historical increase in per capita income in the U.S. The cost of public education is one of the few exceptions. From 1970 to 2002, income increased 632% while consumer prices increased 363%. The average consumer has nearly twice the buying power that he had in 1970, but the cost of public education has persistently outpaced wages. Yes, Mr. Moravec, reasonable and informed people do in fact want to apply the same market forces to education that have increased the quality and affordability of other goods and services over time. Ralph Bristol
posted by Jack Mercer @ 3/28/2005 06:37:00 AM


WHICH IS IT?
Yahoo! News - Schindlers' Lawyers Drop Appeals: "PINELLAS PARK, Fla., March 26 -- Two visions of Terri Schiavo emerged Saturday: Her husband's attorney, George Felos, said he had 'never seen such a look of beauty and peace upon her.' Schiavo's father, Robert Schindler, whose family has compared her complexion to that of a concentration camp victim, said 'she is fighting like hell to stay alive.'"
posted by Jack Mercer @ 3/27/2005 08:05:00 PM


UPDATE ON TERRI
Friday, March 25, 2005
My Way News: "As of Friday morning, Terri Schiavo, 41, had been without food or water for almost seven days and was showing signs of dehydration - flaky skin, dry tongue and lips, and sunken eyes, according to attorneys and friends of the Schindlers. Doctors have said she would probably die within a week or two of the tube being pulled."
posted by Jack Mercer @ 3/25/2005 11:53:00 AM


1ST AMENDMENT FOR DUMMIES
It's amazing how many people think the first amendment protects them from any consequence when they say or do something unpopular. A Colorado town trustee is the latest person in the news to put his ignorance of the Constitution on display. David Habecker thinks voters violated his 1st Amendment rights when they held a recall election and booted him off the town council because he wouldn't stand and recite the Pledge of Allegiance. For the record, Habecker is suing his town, Estes Park, Co., in federal court to have the pledge declared unconstitutional. He doesn't like the "G" word. Habecker, of course, has every right to refuse to say the pledge and even to file his silly lawsuit try to to have it declared unconstitutional. But he doesn't have a right to keep his seat on the town council. Colorado voters have recall elections at their disposal, and they have decided they don't want him representing them any more. They voted 903-605 to give him the boot. In the United States, the government is not allowed to infringe on your right to speak your mind, but the 1st amendment does not force your neighbors to respect your opinions. They are free to shun you if they wish. They can vote against you for any reason, including the fact that you won't say the pledge of allegiance. Had the rest of the town council voted to censure Mr. Habecker for his unpopular views, he might have a valid complaint, but it was the voters, not the government, who reacted unfavorably to his position on the pledge. The 1st Amendment limits the power of the government. It doesn't limit the power of your neighbors of your employer. If you've got something to say, and you think it must be said, feel free to say it, but understand that your neighbors have rights too, including the right to reject you and everything you stand for. We live in a free country, not a "risk-free" country.
Ralph Bristol
posted by Jack Mercer @ 3/25/2005 06:22:00 AM


BLOG O' THE DAY
Thursday, March 24, 2005
Blog surfing is educational. You would be surprised at what is out there. The Snipet will begin publishing the "Blog O' The Day". They are not blogs I agree with--just found to be either interesting. Visit:
RUSSIAN TRUE LOVE
posted by Jack Mercer @ 3/24/2005 08:29:00 PM


TERRI WON'T STARVE
She will die from dehydration. Here's how it works: -The mouth would dry out and become caked or coated with thick material. -The lips would become parched and cracked. -The tongue would swell, and might crack. -The eyes would recede back into their orbits and the cheeks would become hollow. -The lining of the nose might crack and cause the nose to bleed. -The skin would hang loose on the body and become dry and scaly. -The urine would become highly concentrated, leading to burning of the bladder. -The lining of the stomach would dry out and the sufferer would experience dry heaves and vomiting. -The body temperature would become very high. -The brain cells would dry out, causing convulsions. -The respiratory tract would dry out, and the thick secretions that would result could plug the lungs and cause death. -At some point within five days to three weeks the major organs, including the lungs, heart, and brain, would give out and the patient would die. Of course, there are many who say she won't feel a thing...
posted by Jack Mercer @ 3/24/2005 06:24:00 AM


WHEN I DIE
If I can't die with an anyeurism I hope I die of thirst. Michael Shiavo told Larry King: "It's painless, and probably the most natural way to die. It is a very easy way to die, probably the second best way to die, the first being an aneurysm."
posted by Jack Mercer @ 3/24/2005 06:18:00 AM


THE NEWS SNIPET

I will probably need to add this to my bio so that people can understand what the "Snipet" is all about. Since I am beginning to get some new visitors, it behooves Jack to explain what the Snipet is. "Snipet" (pronounced: snipe - it) is not a word. It is a derivative of two words: "Snipe" and "Snippet". Miriam Webster defines Snipe as: to aim a carping or snide attack, or: to shoot at exposed individuals (as of an enemy's forces) from a usually concealed point of vantage. and Miriam Webster defines Snippet as: : a small part, piece, or thing; especially : a brief quotable passage Jack Mercer, therefore, defines "Snipets", as: brief, snide shots at exposed situations (not individuals--although sometimes this happens to) from a concealed vantage point. (Although as Jack ages the Snipets become less brief). In short: thinly veiled (and sometimes overt) sarcasm, satire and mockery. Everything (well almost everything) on this site fits this description. Even Jack's bio (look to your left) makes fun of him. (Do a Google search on "Walter Mitty"). This is not to say that Jack doesn't try to put a lot of thought into the items he calls attention to. And the Snipet isn't yet the full synthesis of vision that Jack has for the website. In short, approach what you read on this site with an open mind and mirthful nature. Disagree or agree, anyone can become a News Sniper
posted by Jack Mercer @ 3/24/2005 05:53:00 AM


Thomas Sowell: 'Cruel and unusual'
Today I made a comment on Hen Whisperer's blog. I said that we have demonstrated how barbaric a nation we are by allowing Terri to die of starvation. We don't even let criminals do that. Thomas Sowell agrees: Thomas Sowell: 'Cruel and unusual'
posted by Jack Mercer @ 3/23/2005 09:30:00 PM


TERRI'S "CHOICE"?
My Way News: "Howard Simon, executive director of the American Civil Liberties Union of Florida, praised the ruling: 'What this judge did is protect the freedom of people to make their own end-of-life decisions without the intrusion of politicians.'"
posted by Jack Mercer @ 3/22/2005 10:06:00 AM


IDEOLOGUES - A CHALLENGE
Monday, March 21, 2005
Consistency in position within issues is not the same as consistency in position between issues. For example, we find people who are amazingly consistent on issues like abortion. Any time there is a debate about the issue, regardless of scientific data, new information, etc., these individuals will predictably come down on one side of the argument no matter what. In the example above, the group who advocates terminating innocent life are staunchly against killing criminals for capital crimes. For example, they will say that John Coueyshould not be executed for his rape and murder of a 12 year old little girl. I remember pointing this out to a liberal friend, and he immediately jumped in saying that I believed in capital punishment, therefore I couldn't say anything about abortion. I kindly reminded him then that he couldn't say anything about capital punishment then, if he believed in abortion. Needless to say, I accomplished nothing, as I was not "nuanced" enough to understand the difference between killing unwanted, unviable children and socially contructed criminals. Here's the challenge. It is obvious what position people will take on an issue based on their ideology. While these positions are consistent within their particular issue, they are always inconsistent between issues. If there are any out there who would like to present an issue, the Snipet will tell you the exact position that ideologues will take on it.
posted by Jack Mercer @ 3/21/2005 08:12:00 PM


NOT ENOUGH TO DO
Several years back the Snipet pointed out that a government "shut down" (remember during the budget wars?) was a good thing... not bad. Here is a GREAT example of bored politicians with not enough to do: Lawmaker Seeks to End Sexy Cheerleading
posted by Jack Mercer @ 3/19/2005 08:28:00 AM


HOW DO YOU FEEL?
Friday, March 18, 2005
TERRI SCHIAVO'S FEEDING TUBE HAS BEEN REMOVED, FOX NEWS CONFIRMS. Are you sure?
posted by Jack Mercer @ 3/18/2005 03:44:00 PM


NIMBY
Wednesday, March 16, 2005
It always amazes me the hypocricy of individuals within our country who continue to drive their SUV, but don't want to pay the price it takes. Fully willing to let other countries drill their land and export, but when the rubber meets the road, they are nothing but hypocritical NIMBY's. (In case you are unfamiliar with that term it means "Not In My Back Yard). If you are against drilling in Alaska, then you should put your money where your mouth is and stop driving. Until you're ready to do that, sit down and shut up. Take a look at the news article below. Its obvious from the inserted photography which way these people lean. My Way News
posted by Jack Mercer @ 3/16/2005 10:13:00 PM


Judges, stubbornness destroying Constitution
It's time to rethink our allegiance to The Constitution of the United States. For some of us, the commitment is so strong that we don't want to touch a hair on its head. That commitment has unwittingly contributed to its eventual, if not imminent demise. This thought came to me as I absorbed the message that Justice Antonin Scalia delivered to the nation Monday in a speech to the Woodrow Wilson Center, a Washington think tank. Rush Limbaugh played key parts of the justice's presentation to his audience Tuesday. Only a few other news organizations have reported on the speech. In a 35-minute address, Justice Scalia imparted enough wisdom to fruitfully realign the relationship between the legislative and judicial branches of government for at least the next century, if not until the end of time. But, accepting his advice will necessarily involve abandoning our aversion to amending the Constitution. Scalia refers to himself as an "originalist." By that, he means that the parts of the Constitution that have not been amended mean today exactly what they meant when it was written. Since the Constitution has a provision for amendments, if the people, through our elected leaders, want it to say something different, we must amend it. Many conservatives have adopted a "strict constructionist" view of the constitution, which is similar to Scalia's "originalist" view, except that the strict constructionists believe that the original wisdom is infallible and should never be altered. I am among those who revere the brilliance of the Founders, but we sometimes forget that among their wise decisions was the decision to provide for changes in the Constitution they gave us. For most of our history, when public attitudes evolved, such as the decisions to include blacks and women in the political process, Congress and the states heeded the Founders' intent by adding amendments to reflect the new consensus. Women who refused to accept their second-class status found no refuge in the court. Rather, they employed the democratic process that the Constitution requires and won passage of the 19th Amendment in 1920. Fast-forward to March 1st this year. The U.S. Supreme Court outlawed the juvenile death penalty, citing "evolving notions of decency." What evidence did it use? A majority of the states do not allow the execution of murderers who committed the murders when they were juveniles. However, of those states that still have a death penalty, the majority DOES allow such executions. The court is not only ignoring the need for constitutional authority for its decisions, it is stretching the definition of majority to couch it personal opinions in political terms. As Justice Scalia said Monday, the U.S. Supreme Court has rendered the Constitution useless. Can we resuscitate it? Maybe. But we must be willing to change it occasionally if we want to save it. If we take the stand that the Constitution, or any part of it, is perfect and must not be altered, we invite a continuation of judicial action that ignores the original intent. The Constitution is elastic. Its elasticity is the provision for amendments, which has been used successfully just 16 times since the Bill of Rights was adopted. I have been guilty of a prejudice against amending the Constitution. That prejudice is the product of respect for the document and its authors. However, almost nothing, not even the constitution, can stand the test of time without occasional upgrades and improvements. Taking a hands-off approach to the finest built home or the grandest political foundation can doom it to uselessness over time. The Constitution was crafted to withstand changes and improvements. It was not crafted to last forever in its original form. Protecting it from lawful, democratic and thoughtful change makes it even more vulnerable to capricious, impulsive and undemocratic manipulation by political oriented judges. We haven't amended the Constitution since the 26th Amendment was adopted in 1971, giving 18-year-olds the right to vote. If I had my way, the 27th Amendment would give Congress the same check over the judicial branch that it has over the President. Congress should have the power to overturn Supreme Court rulings with a 2/3rd vote in each chamber. That would help protect the Constitution from further judicial mischief, and begin the long overdue resuscitation process. Ralph Bristol
posted by Jack Mercer @ 3/16/2005 12:03:00 PM


BEWARE JUDICIAL ACTIVISM/TYRANNY
Monday, March 14, 2005
Left leaners are currently rejoicing at the trend in the judicial system where judges are circumventing the United States Constitution and granting themselves power beyond what is given them. Consider this: SAN FRANCISCO (AP) - A judge ruled Monday that California's ban on gay marriage is unconstitutional, saying the state could no longer justify limiting marriage to a man and a woman. In the eagerly awaited opinion likely to be appealed to the state's highest court, San Francisco County Superior Court Judge Richard Kramer said that withholding marriage licenses from gays and lesbians is unconstitutional. "It appears that no rational purpose exists for limiting marriage in this state to opposite-sex partners," Kramer wrote. Now think about this for a second people. The Constitution separated powers in this nation for a reason. Judges were NOT ALLOWED to make law (and judge it to--conflict of interest). In the ABSENCE of law, a judge could not just make one up, he had to make no binding ruling on the issue and pass it back to the LEGISLATIVE branch of government who would formulate the law. Now this judge makes law in the absence of law--something that is CLEARLY unconstitutional. While left-leaners may currently rejoice at the current trend of judicial tyranny, one day they will be crying when it is focused on them!
posted by Jack Mercer @ 3/14/2005 05:09:00 PM


GET YOUR HEAD OUT OF THE SAND, PEOPLE!
If you want to know the truth about guns and their proper use read the following book. Amazon.com: Books: More Guns, Less Crime: Understanding Crime and Gun-Control Laws: "John R. Lott Jr." Preparing for evil The multiple murders at an Atlanta courtroom and a Wisconsin church service Friday and Saturday are stark reminders that evil, crazy people walk in our midst. As Americans, we can either accept the inherent risk of living in a free and open society, or we can be as prepared as possible to defend ourselves, or both. As is always the case when senseless slaughter temporarily dominates the news, others will propose solutions that include spending more on security and restricting freedom. They will say we need more and better trained police, and more restrictions on firearms. It wasn't a lack of resources, but extremely poor judgment, that allowed Brian Nichols to overpower a female deputy, take her gun, and kill four people in Atlanta Friday. Nichols came to court with a shank in his shoe just the day before the killings. That should have been enough to make sure he didn't leave his cell again without handcuffs and shackles. It was stupidity, not a lack of security, that unleashed evil in that Atlanta courtroom. In suburban Milwaukee Saturday, a man that his neighbors knew mainly for the vegetable he grew, opened fire with a 9 mm handgun in a hotel that doubled as church for the Living Church of God, firing 22 shots that killed seven people and wounded four others. The only hint as to his motive is that the killer, Terry Ratzmann, walked out of a recent sermon "in a huff." He might have been unhappy with the minister. Another person who knew Ratzmann thinks he was about to lose his job as a computer technician. It doesn't matter why he did it. He was mentally unbalanced and he flipped. It can happen any day, anywhere. Milwaukee could employee two or three times more police, and the seven people would still be dead. You can't assign a government security force to every place of business, worship, and other public gathering where insane people roam free. We can either accept the risk of existing with such people without knowing who they are, or we can be prepared to defend ourselves when their cork pops in our midst. That boils down to two things. First, more law-abiding, sane people should undergo the necessary training and carry concealed weapons. Second, there should be fewer, not more, restrictions on where concealed weapons can be carried. Ralph Bristol
posted by Jack Mercer @ 3/14/2005 09:27:00 AM


John Leo: What's next for liberalism?
Sunday, March 13, 2005
John Leo: What's next for liberalism?: " Liberals have been slow to grasp the mainstream reaction to the no-values culture, usually chalking it up to Karl Rove, sinister fundamentalists, racism, or the stupidity of the American voter. Since November 2, the withering contempt of liberals for ordinary Americans has been astonishing. Voting for Bush gave "quite average Americans a chance to feel superior," said Andrew Hacker, a prominent liberal professor at Queens College. We are seeing the bitterness of elites who wish to lead, confronted by multitudes who do not wish to follow. "
posted by Jack Mercer @ 3/13/2005 09:29:00 PM


NEW WORD ALERT: Heteronormative
Jada Pinkett Smith gave a speech at Harvard which was offensive to some because it was "heteronormative". For this and other hilarious reads go to: FOXNews.com - Views - Tongue Tied - Heteronormative Harassment, No Ladies Allowed: "Actress Jada Pinkett Smith (search) is under fire for a speech she made at Harvard University that was overly 'heteronormative' and made gay students feel uncomfortable by not sufficiently addressing their status, reports The Crimson. Organizers of the Cultural Rhythms show are apologizing for the offense caused by the wife of actor Will Smith (search). In the speech, she was said to be giving the story of her life 'and her perspective was a heterosexual perspective. 'She wasn't trying to be offensive. But some felt she was taking a narrow view, and some people felt left out,' the apology reads. Members of the Bisexual, Gay, Lesbian, Transgender, and Supporters Alliance (BGLTSA) said Pinkett Smith's comments implied that standard sexual relationships are only between males and females. 'Some of the content was extremely heteronormative, and made BGLTSA members feel uncomfortable,' said BGLTSA Co-Chair Jordan B. Woods."
posted by Jack Mercer @ 3/11/2005 12:00:00 PM


DEBUNKING SOCIAL SECURITY SPIN
Wednesday, March 09, 2005
ONE STEP AT A TIME. Stocks not risky investment scheme Much of the opposition to reforming Social Security by adding private accounts is based on the proposition that investing in the stock market is too risky. It's fine for people to invest on their own, but the government safety net - Social Security -- should be made of sterner stuff. One of the problems with that argument is that the only thing the government can guarantee - based on the steady demographic shift in America - is that the cost of the safety net, as it is presently constructed, will be much higher for future generations. It is already six times more expensive, even after adjusting for inflation, than it was when it was invented. We have long since passed the day when Social Security was a bargain for workers and retirees. As big a problem with the argument is the premise that the stock market is too risky. Last weekend, I took the opportunity to ask my guest experts on Ralph & Company (11 a.m. Saturdays on WORD) to opine about the future of stock market investing in general. Dant Goepper and Bland Burkhardt are investment managers with a combined 54 years experience in financial services. I asked them whether there's any reason to believe that the stock market will be a better or worse place to invest over the next 50 years versus the last 50 years. Goepper, the senior of the two money managers, said, "If you just take if from World War II forward, the stock market has averaged about 12 percent - that's the S&P 500. At 12 percent, your money is doubling every six or seven years pretty regularly." Goepper said the average return for high quality bonds during the same period has been 5.9 percent and the return on cash (short-term treasury bills) has been 3.8 percent. "So," Goepper said, "stocks have about doubled the return of bonds and bonds doubled the return of cash. Is there any reason to think that won't continue? Not to me. I think it will continue - the spread between those asset classes will continue. What I do think will happen is that stocks will come down, so if stocks come down to 8 or 9 percent, I think bonds will come down to about 4 or 4 ½, which means cash could come down to 2 or 2 ½. I think the ratio though will remain the same?" Question: "Has there been any real, permanent sea change in the American economy that would cause that to happen - the stocks might come down to eight percent or lower?" Burkhardt: "I think that there may be. We're kind of speculating here, but there is a lot more information about companies these days, and these companies are a lot more transparent than they were decades ago, and I think they are priced higher because of that, which would indicate a lower future return. Now -- a lot lower? I don't really think so. I think on average, Dant is about right - they they're probably going to come in the high single digits on average." Goepper and Burkhardt concede that the stock market is the most volatile of the major asset classes that they track on a regular basis. We've all seen recent evidence of that. After a major bull run in the late 90s, the Dow Jones Industrial Average took one of it biggest hits in history, dropping from a high of nearly 12,000 in January of 2000 to just over 7,000 in October 2002. But that low figure - 7,000 - was still a hefty gain over a 10-year period. In October 1992, the Dow opened at 3,271, meaning that at the end of one of the worst periods in the history of the stock market, the Dow Jones Industrial Average had a 10-year performance of more than 100 percent - not bad for a "risky" investment scheme. Ralph Bristol NOTE: If the stock market crashes and the American economy tanks, then there won't be any more money for Social Security either. Think for a second willya!
posted by Jack Mercer @ 3/09/2005 08:36:00 AM


Right vs. Left: The Elements, by Ernest Partridge - Democratic Underground
Tuesday, March 08, 2005
I try desperately to find individuals who can present a clear and balanced perspective on the issues at large on the "right" vs. "left" debate. I started reading the following article and with the introduction I thought that I may have stumbled upon a clear perspective. But then...it all decays into conjecture, rhetoric and melon-headed mush. Until the "left" begins to wake up and rebel against their own deceitful perceptions, they are bound to become what they hate most. An article worth reading, because these people actually believe it. Right vs. Left: The Elements, by Ernest Partridge - Democratic Underground
posted by Jack Mercer @ 3/08/2005 09:30:00 PM


News Snipet 'Blog
Monday, March 07, 2005
Dear Senators Thomas and Hawkins: I have become increasingly disgruntled with our State and its lack of vision in advancing legislature that would begin to bring South Carolina into a position of leadership in the Union. Such is education and tort reform. First, being last in the nation on just about every academic statistic is disgraceful, and I don't think that this will be tolerated much longer by the citizens of this state. Reform that would open our schools to a free market system, giving consumers what they are paying for, and removing the protectionism afforded failing institutions would focus the nation's perspective on our State and its willingness to do something about a severe problem. I think a legislation allowing school choice within the public system (for a start) would allow our public schools time to become competitive, while moving us toward a completely free education market in the future. At the very LEAST our education secretary should be appointed by the governor and not an elected position. Mrs. Tennenbaum's management of our state education system is a fiasco and scandal, and it should not continue to be rewarded simply because people recognize her name on a ballot. For a simple no-nonsense analogy please visit my post at: http://newssnipet.blogspot.com/2005/01/inconsistencies.html Regarding tort reform, there are many in the nation crying for federal standards AND state standards that will begin to counteract the current insanity. I recognize a lot of the reluctance by our legislators in tort reform is because many of them, if not barristers themselves, are friends and associates of them and their lobby. Someone needs to begin to make a stand for the common man and sense. Mr. Thomas and Hawkins, I have a great deal of respect for both of you, and sincerely hope that we will begin to see increased strength being exerted in our legislature. Respectfully, Jack Mercer
posted by Jack Mercer @ 3/07/2005 02:42:00 PM


INTERESTING
Totenberg Eats Shoe, Admits Misjudgment on Iraq Election's Power NPR's Nina Totenberg eats her shoe. Asked on Inside Washington over the weekend if President Bush deserves credit for the democratic movements rising in the Middle East, Totenberg, a critic of Bush's Iraq policy, replied that "if I had a hat I would have to eat it." Then, as she briefly brought a shoe to her month, she noted that "I've got my shoe here" and conceded that "I really did not think that this election in Iraq would make that much difference and I was wrong." She quickly added, however, that "it really does help that Arafat died and they had a real election in Palestine." Totenberg soon returned to her liberal roots, cautioning "that we not engage in a certain level of triumphalism about this." The Wall Street Journal's John Harwood went even further in crediting Bush: "George Bush is going to deserve more credit," for democracy in the Middle East, "than Ronald Reagan did for the demise of the former Soviet Union." MRC.org
posted by Jack Mercer @ 3/07/2005 11:59:00 AM


WE KNOW YOU DIDN'T LIE DAN...
Rather: Memos Real, Insists to Letterman "Nobody Lied" at CBS Dan Rather made clear on Thursday's Late Show with David Letterman that he thinks the George Bush National Guard memos are authentic and is still smarting over the appointment of Nixonite Richard Thornburgh to head the investigatory panel. Rather predicted that "given a little more time, perhaps we could have" authenticated the memos, downgraded the potential impact of his story as he maintained that "George Bush was destined to be re-elected pretty much whatever happened in August and September," described Thornburgh as someone who "was in the Nixon administration, says the Bushes are good friends of his, both President one and two Bush," crowed about how the panel found the story "was not motivated by political bias, and they said that, although they had four months and millions of dollars, they could not demonstrate that the documents were not authentic," resurrected his charge that those who attacked CBS over the story had "their own political motivations and agendas" and contended how, unlike in the Jayson Blair case at the New York Times, at CBS News "nobody lied." Of course we know Dan and the media to be very honest... MRC.org
posted by Jack Mercer @ 3/04/2005 11:44:00 AM


SOCIAL SECURITY DEBATE CONTINUES
False Attacks Over "Windfalls" to Wall Street Summary New information turned up by FactCheck.org shows that the type of private Social Security accounts being proposed by President Bush would yield very little profit to the securities industry, contrary to persistent claims of a potentially huge "windfall" to Wall Street. What we have discovered is that the model for Bush's accounts -- the Federal Thrift Savings Plan for federal workers -- actually paid securities firms a net total of only 16 cents for every $10,000 in workers accounts. The TSP had refused to make that information public -- until now. It shows that fees actually being paid to Wall Street are hundreds of times smaller than some critics had assumed. For that reason and others we find that ads run in Louisiana by the liberal Democratic group Campaign for America's Future are grossly misleading. The group is accusing Republican Rep. James McCrery, who is chairman of the Social Security subcommittee and a supporter of Bush's private accounts, of "corruption" for accepting campaign donations from Wall Street, which it falsely claims will "profit most" from private accounts. Click the link below for the full article: http://www.factcheck.org/article310m.html
posted by Jack Mercer @ 3/04/2005 07:44:00 AM


BLOGGER BUDS
Thursday, March 03, 2005
Just a quick note to my blogger buds. Work has been awful, and it has left me dry and wrung out in the evenings, leaving nothing with which to frat with all my blogger friends. Johnny, Bug, Kathy, Lefty, Right, Mochi, Overflow, Fly, Hen and the rest of you--relief should be around the corner and I look forward to renewing old acquaintances! -Jack
posted by Jack Mercer @ 3/03/2005 07:30:00 PM


TERRI
Tuesday, March 01, 2005
Schiavo case unsettling I suspect that the human anatomy is playing a very cruel trick on the parents of Terri Schiavo. Medical experts appointed by the courts have testified that Terri's "reactions" are nothing more than random motor reflexes, and not indicative of real consciousness. Indeed, of nearly 4 1/2 hours of video taken by Terri's parents, there are only a few seconds that appear to be conscious moments. The court's doctors say Schiavo is in a "persistent vegetative state." Doctors retained by Terri's family say she is not. Who is right? Apparently, no one has the expertise to be an infallible authority on the question. So what is the right thing to do? If Terri had signed a living will, expressing a desire not to be kept alive by extraordinary means, the question would be easy. Simply follow her instructions. But she left no written instructions, so someone has to decide for her. That has set up a life or death conflict between her husband, Michael, who insists that Terri did not want to be kept alive with artificial means, and her parents, who want Terri to live. Whose opinion should prevail? In the absence of an irrefutable conclusion that Schiavo has no awareness, the parents should prevail. If the court's experts are right, then Terri has no awareness and no consciousness, so she is not in any discomfort. Letting her die would not be a relief for her because - if her husband and the courts are right - then she is not capable of suffering. If the parents' medical experts are right, then the court has based its decision on faulty medical expertise. Either way, there is no downside to allowing the parents to prevail, other than the fulfillment of Terri's alleged but unproven wishes. On the other hand, some 20 judges in six courts have examined the evidence and concurred that Terri's husband Michael has acted in her best interest. I suspect the courts have made the right judgment regarding the condition of Terri's brain - but I still see no downside to allowing the parents to prevail. Today, the parents are asking a court to grant Terri a divorce from Michael on the grounds of adultery. They are grasping at anything that will remove Michael's authority as Terri's guardian to make decisions on her behalf. If Michael Schiavo has any compassion, he will agree to the divorce and walk away, leaving Terri's parents as her guardian. Schiavo may well have been acting in the best interests of his wife, and he may be well within his legal rights. But if his and the courts' medical experts are right, Terri is incapable of either suffering, or knowing what is happening. Her parents' suffering, on the other hand, will never end if they are left to believe that her husband and the courts have murdered their daughter. Ralph Bristol
posted by Jack Mercer @ 3/01/2005 11:15:00 AM


About Me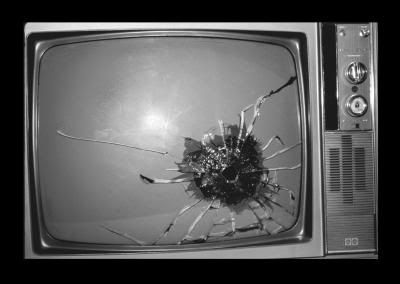 Name: Jack Mercer
Home:
About Me:
See my complete profile

"Snipet" (pronounced: snipe - it) is not a word.It is a derivative of two words: "Snipe" and "Snippet".




Miriam Webster defines Snipe as: to aim a carping or snide attack, or: to shoot at exposed individuals (as of an enemy's forces) from a usually concealed point of vantage.




Miriam Webster defines Snippet as: : a small part, piece, or thing; especially : a brief quotable passage.




In short, "Snipets" are brief, snide shots at exposed situations from a concealed vantage point.

WARNING! With due reverence to the Bill of Rights and the First Amendment there is NO comment policy on the News Snipet.

Other things
Archives
Politics
Template by