PREPARE!
Do Something!
Other things
"
Other things
THIS IS A REAL EMAIL I RECEIVED
Wednesday, September 28, 2005
Dear Jack, House Republican Leader Tom DeLay and two associates were indicted today for criminal conspiracy. Specifically, the charge is conspiracy to violate campaign finance laws. The indictment is another stark reminder that Republicans have a lucrative money-for-influence machine that will do anything -- including breaking the law -- to funnel corporate and special interest money into their party in huge amounts. People ask what the difference is between the two parties, and this indictment gives one clear answer. Republicans are committed to pushing the legal limits to collect checks from special interests who want to use government for their own narrow purposes. Democrats are committed to funding our party with contributions from ordinary Americans so that when we take power, the government will represent the people. You can make your personal commitment to changing the culture of corruption by getting your Democracy Bond -- a monthly commitment to contribute to the Democratic Party: http://www.democrats.org/democracybonds The Republican Party raises $10 million a month in huge checks from special interests who know they will get a return on their investment in the form of government giveaways and special privileges. Even though committed small donors have revolutionized the way campaigns and organizations on our side raise money, the fact is that the Republican National Committee raises twice as much as the Democratic National Committee. We will never compete with the money Republicans like DeLay can collect through conspiracy and corruption. That's why every single committed Democrat needs to make the Democracy Bond commitment: http://www.democrats.org/democracybonds The only way we will close the gap will be with a million people giving $20 a month. A million people sounds like a lot -- and it is. But tens of millions of us already put so much of ourselves into the political process -- talking to friends, knocking on doors for candidates, writing letters to the editor of our local papers, and making contributions from time to time. But we will only create lasting change if that sense of obligation and responsibility becomes a regular part of our lives. That's the idea behind Democracy Bonds. We are building a community of people committed to a stable, healthy Democratic Party not just for this month or even this election cycle, but for the next generation. Join the Democracy Bond community now: http://www.democrats.org/democracybonds In the aftermath of Hurricane Katrina, Governor Dean directed us to halt fundraising and divert staff resources to the relief effort. He asked you to contribute to the Red Cross, and staff members were deployed to the Gulf region. The 24,819 Democracy Bond holders who provide financial stability for our party through their monthly contributions made that possible. I cannot overstate how important the Democracy Bonds program is to the future of our party. This community of ordinary Americans committed to contributing whatever they can afford defines who we are as a party. If you haven't yet, please join now: http://www.democrats.org/democracybonds The indictment of Tom DeLay is just the tip of the iceberg. This isn't just about clean campaign financing -- it's about who controls our government. This culture of corruption has dangerous consequences -- the Republican administration has shown us all too clearly what happens when political cronies occupy critical positions of power. It's time for ordinary people -- whose money is wasted and whose safety is jeopardized by corruption -- to stand up and say, "Enough." Let's stand together. Thank you,Tom McMahon Executive DirectorDemocratic National Committee P.S. Get the full story and latest news on the DeLay indictment: http://www.democrats.org/delayscandal
posted by Jack Mercer @ 9/28/2005 08:07:00 PM


YES, DAN, WE NO LONGER TOLERATE LIARS
Tuesday, September 20, 2005
BREITBART.COM - Just The News: "NEW YORK (Hollywood Reporter) - Former CBS News anchor Dan Rather said Monday that there is a climate of fear running through newsrooms stronger than he has ever seen in his more than four-decade career."
posted by Jack Mercer @ 9/20/2005 05:49:00 AM


WHAT ELSE DOES ONE EXPECT FROM A REDNECK?
Monday, September 19, 2005
Former US president Bill Clinton sharply criticised George W. Bush for the Iraq War and the handling of Hurricane Katrina, and voiced alarm at the swelling US budget deficit.
Breaking with tradition, under which US presidents mute criticisms of their successors, Clinton said the Bush administration had decided to invade Iraq 'virtually alone and before UN inspections were completed, with no real urgency, no evidence that there were weapons of mass destruction.
Expect to hear former President Carter's piping voice not too far behind.
posted by Jack Mercer @ 9/19/2005 05:27:00 AM


AS FLOOD WATERS RECEDE
Saturday, September 17, 2005
THE TRUTH IS STARTING TO BE SEEN... Louisiana Officials Indicted Before Katrina Hit - Los Angeles Times: "Louisiana Officials Indicted Before Katrina Hit Federal audits found dubious expenditures by the state's emergency preparedness agency, which will administer FEMA hurricane aid. By Ken Silverstein and Josh Meyer, Times Staff Writers WASHINGTON Senior officials in Louisiana's emergency planning agency already were awaiting trial over allegations stemming from a federal investigation into waste, mismanagement and missing funds when Hurricane Katrina struck. And federal auditors are still trying to track as much as $60 million in unaccounted for funds that were funneled to the state from the Federal Emergency Management Agency dating back to 1998."
posted by Jack Mercer @ 9/17/2005 07:04:00 PM


BUSH VACATION
Friday, September 16, 2005
HAT TIP: Danny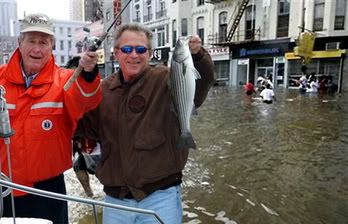 YES, THIS IS IRREVERENT, BUT WHETHER YOU ARE LEFT OR RIGHT THIS IS TOO HILARIOUS NOT TO POST
posted by Jack Mercer @ 9/16/2005 09:59:00 PM


I'M NOT MAKING THIS UP!

THE BELOW WAS POOR CINDY SHEEHAN. REALLY! HAT TIP: Rachel Welcome to MichaelMoore.com!: " don't care if a human being is black, brown, white, yellow or pink. I don't care if a human being is Christian, Muslim, Jew, Buddhist, or pagan. I don't care what flag a person salutes: if a human being is hungry, then it is up to another human being to feed him/her. George Bush needs to stop talking, admit the mistakes of his all around failed administration, pull our troops out of occupied New Orleans and Iraq, and excuse his self from power. The only way America will become more secure is if we have a new administration that cares about Americans even if they don't fall into the top two percent of the wealthiest. "
posted by Jack Mercer @ 9/16/2005 02:56:00 PM


TYPICAL GOVERNMENT
WorldNetDaily: Storm-relief money spent at strip clubs: "Storm-relief money spent at strip clubs Police in Houston find misuse of FEMA's $2,000 debit cards" While this may not be widespread, it is typical of any government program. Most programs seem like good ideas, but they rarely have the proper management or oversight. This is just typical of what taxpayers have to live with in a government out of control.
posted by Jack Mercer @ 9/16/2005 05:59:00 AM


HERE IN TOWN...
An official in the Bush administration has referred to the New Orleans evacuees as "yard apes" and has not yet been fired. That's not true, but this is true. An official in the Barton administration has referred to New Orleans evacuees as "yard apes" and has not yet been fired. Tom Barton, President of Greenville Tech, is appropriately shocked by the comment by the associate vice president of student services, Renee Holcombe, but he did not immediately fire her. Barton said he couldn't say whether Holcombe would remain in her current position because the school is consulting with attorneys on the action it can take. Barton told the Greenville News that Holcombe made the comment at a briefing last Thursday to inform college employees of their roles as Greenville Tech bused hurricane survivors from the Palmetto Expo Center for registration. Barton said. "It was stated that we will take these yellow buses and go pick up these yard apes." Again, Barton has expressed shock over the comment. He called it "asinine," and said, "My God, how bad can bad get?" But he didn't immediately fire Ms. Holcombe. He's consulting with his lawyer to see what the school can do. Can you imagine if this story involved the Bush administration instead of the Barton administration, and President Bush had not yet decided whether to fire the offending person? Impeachment proceeding would be well underway. There would be such a race to the microphones that any one of at least 50 U.S. Senators would have been trampled to death. Ralph Bristol
posted by Jack Mercer @ 9/16/2005 05:03:00 AM


ACTIVIST JUDGING?
Thursday, September 15, 2005
Ok, not all of the details are readily available, but the California judge who ruled it unconstitutional to say the pledge in school stated that he used precedence from the Michael Nudow case to make his decision. What I am wondering is what precedence was set by Nudow case, because it was thrown out because he did not have custody of his child. Any thoughts?
posted by Jack Mercer @ 9/15/2005 05:06:00 AM


WHAT DO THESE COMMENTS HAVE IN COMMON?
Wednesday, September 14, 2005
House Majority Leader Tom DeLay said yesterday that Republicans have done so well in cutting spending that he declared an 'ongoing victory,' and said there is simply no fat left to cut in the federal budget.
---
Farrakhan said, "I heard from a very reliable source who saw a 25 foot deep crater under the levee breach. It may have been blown up to destroy the black part of town and keep the white part dry,"
posted by Jack Mercer @ 9/14/2005 05:28:00 PM


WONDER IF SHE WILL VISIT HILLARY NEXT?


Oops, bad timing for anti-war protester Cindy Sheehan, we hear. In Batavia, Ill., last week, she and about 100 others protested at the office of House Speaker Dennis Hastert, who was in Washington. Not only were they met with counterprotests, but inside Hastert's office aides were organizing a food drive for Hurricane Katrina victims. They even gave Sheehan's group leaflets seeking contributions. "We hope they'll give something," said a Hastert aide. US News Insider
posted by Jack Mercer @ 9/14/2005 05:08:00 AM


HAS BUSH BETRAYED CONSERVATIVES ONCE AGAIN?
Tuesday, September 13, 2005
"Roberts is not burdened by a Bork-like record of speaking out in his own voice ... Roberts presents a sharp contrast to [Robert] Bork in judicial philosophy. Roberts is already on record strongly disclaiming an allegiance to any particular theory of constitutional interpretation, such as original intent jurisprudence. Roberts says that he picks and chooses what interpretive tools to use (such as textual analysis, historical analysis, or reliance on precedent) depending on which tools seem best to fit a particular case ... ...Why could Roberts be influential? Because of the very collegiality that is cited as a reason to confirm him. Justice Thomas, for instance, is isolated on the court by his extreme and often unusual views; like Bork, he too is susceptible to caricature due to a strong emphasis on Framers' intent. So while Thomas is a reliable conservative vote, he is not an effective wooer of moderates. But Roberts could both be a reliable conservative vote, and also convince moderates such as Justice Kennedy to join his side. Similarly, while Thomas is too extreme to ever be a chief justice candidate, Roberts, in contrast, could easily become one... ...Putting politics aside, the current court member Roberts most resembles is Stephen Breyer. Roberts is far more intellectual than Rehnquist, far more politic than Scalia, and – as noted above – far less extreme than Thomas" Edward Lazarus - Close friend to John Roberts
posted by Jack Mercer @ 9/13/2005 05:35:00 AM


RETHINKING GUN CONTROL
Monday, September 12, 2005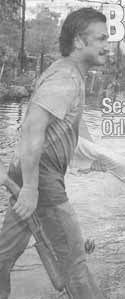 Sean Penn on patrol in New Orleans. Wait...SEAN PENN?
posted by Jack Mercer @ 9/12/2005 07:24:00 PM


POT...
"To me the pivotal question, which will determine my vote is this: Are you within the mainstream _ albeit the conservative mainstream _ or are you an ideologue who will seek to use the court to impose your views upon us" Charles Schumer
posted by Jack Mercer @ 9/12/2005 07:23:00 PM


HUH?
When asked about the buses parked in the water: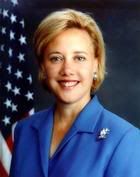 "I am not going to level criticism at local and state officials. Mayor Nagin and most mayors in this country have a hard time getting their people to work on a sunny day, less alone getting them out of the city in front of a hurricane, and it's because this administration and administrations before them do not understand the difficulties that mayors.face. In other words, this administration does not believe in mass transit." Sen. Landrieu Concerning Mayor Nagin's culpability: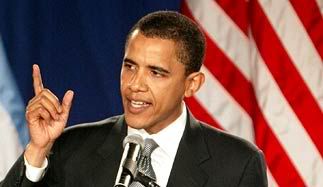 "They couldn't conceive of the notion that someone couldn't load up their SUVs, put a hundred dollars worth of gas in there, put some sparkling water and drive off to a hotel and check in with a credit card." Sen. Barak Obama Concerning the Bush Administration and Global Warming's causing Katrina: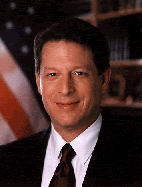 "When the corpses of American citizens are floating in toxic flood waters five days after a hurricane struck, it is time not only to respond directly to the victims of the catastrophe, but to hold ... the leaders of our nation accountable...The warnings about global warming have been extremely clear for a long time. We are facing a global climate crisis, it is deepening. We are entering a period of consequences," Al Gore Said during John Roberts confirmation hearings: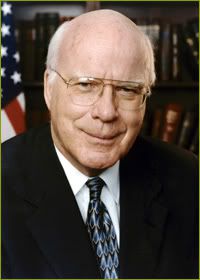 "Today, the devastation, despair facing millions of our fellow Americans in the Gulf region is a tragic reminder of why we have a federal government, why it's critical that our government be responsive," Sen. Patrick J. Leahy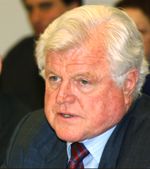 "The powerful winds and flood waters of Katrina tore away the mask that has hidden from public view the many Americans who are left out and left behind. As one nation under God, we cannot continue to ignore the injustice, the inequality and the gross disparities that exist in our society." Sen. Edward M. Kennedy Don't Democrats and liberals tout themselves as intellectuals?
posted by Jack Mercer @ 9/12/2005 06:03:00 PM


BEST FEDERAL DISASTER RESPONSE IN U.S. HISTORY
Jack Kelly: No shame: "The federal response to Katrina was not as portrayed It is settled wisdom among journalists that the federal response to the devastation wrought by Hurricane Katrina was unconscionably slow. 'Mr. Bush's performance last week will rank as one of the worst ever during a dire national emergency,' wrote New York Times columnist Bob Herbert in a somewhat more strident expression of the conventional wisdom. But the conventional wisdom is the opposite of the truth. Jason van Steenwyk is a Florida Army National Guardsman who has been mobilized six times for hurricane relief. He notes that: 'The federal government pretty much met its standard time lines, but the volume of support provided during the 72-96 hour was unprecedented. The federal response here was faster than Hugo, faster than Andrew, faster than Iniki, faster than Francine and Jeanne.'"
posted by Jack Mercer @ 9/12/2005 05:53:00 AM


COURT OF PUBLIC OPINION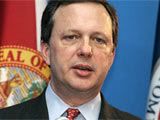 Since I have listened to the media both left and right I have heard a recurring theme: FEMA screwed up. Since we have a nation of experts who know better than FEMA and its director what should and shouldn't have been done in the aftermath of Katrina, the Snipet would like to issue a challenge: Please present factual and substantiated information detailing how FEMA screwed up. Also, detail exactly what its Director, Brown, did to screw up. Cite specific examples. Entries that are automatically disqualified are: "They didn't respond in time", "they were delayed", "they weren't insistent enough in pressing the mayor to evacuate", "President Bush relieved him of his duties therefore he must have handled it wrong" and such generalities. I especially look forward to hearing from my friends on the left who advocate that everyone should be entitled to a fair hearing before judgement is passed. In a court of law we hold our justice system to the presentation of facts in order to judge. We need to start doing that in the court of public opinion. Look forward to your responses.
posted by Jack Mercer @ 9/12/2005 05:46:00 AM


ASSIGNING BLAME
Friday, September 09, 2005
Charles Krauthammer: Assigning blame: "WASHINGTON -- In less enlightened times, there was no catastrophe independent of human agency. When the plague or some other natural disaster struck, witches were burned, Jews were massacred and all felt better (except the witches and Jews). A few centuries later, our progressive thinkers have progressed not an inch. No fall of a sparrow on this planet is not attributed to sin and human perfidy. The three current favorites are: (1) global warming, (2) the war in Iraq and (3) tax cuts. Katrina hits and the unholy trinity is immediately invoked to damn sinner-in-chief George W. Bush." Here's proof: Cartoon found on www.democraticunderground.com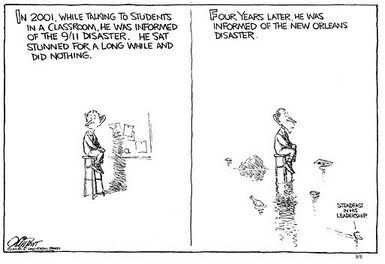 posted by Jack Mercer @ 9/09/2005 08:40:00 PM


PHYSICS
For every action there is an opposite and equal reaction. Hurricane Katrina hit and the Bush Administration's detractors used this tragedy as a political opportunity to attack. It was not the Snipet's intent to take shots at anyone during this time, but when the Democrats let loose with a barrage of false accusations and used the misfortune of these people to score points, it left one no choice than to deal with the falsehoods. So, for that small, but loud 13% expect your actions to have a equal and opposite reaction.
posted by Jack Mercer @ 9/09/2005 06:30:00 AM


TO LEVEE OR NOT TO LEVEE
Thursday, September 08, 2005
Money Flowed to Questionable Projects: "Money Flowed to Questionable Projects State Leads in Army Corps Spending, but Millions Had Nothing to Do With Floods By Michael Grunwald Washington Post Staff Writer Thursday, September 8, 2005; Page A01 Before Hurricane Katrina breached a levee on the New Orleans Industrial Canal, the Army Corps of Engineers had already launched a $748 million construction project at that very location. But the project had nothing to do with flood control. The Corps was building a huge new lock for the canal, an effort to accommodate steadily increasing barge traffic."
posted by Jack Mercer @ 9/08/2005 07:23:00 PM


YES, HILLARY, LET'S APPOINT A COMMISSION TO LOOK INTO THIS...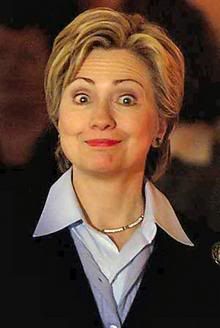 All Headline News - Update: Red Cross Says "We Were Kept From Superdome By State" - September 8, 2005: "Update: Red Cross Says 'We Were Kept From Superdome By State' September 7, 2005 7:01 p.m. EST Douglas Maher - All Headline News Staff Reporter Washington, D.C. (AHN) - A report on Fox News from correspondent Major Garrett Wednesday night reveals a major break into what exactly went wrong at the Louisiana Superdome in the days after Hurricane Katrina struck the city. An American Red Cross representative tells Fox News that the Louisiana State Homeland Security Department refused the relief organization permission to take food and water to the Superdome because they did not want to 'encourage people to go there.' "
posted by Jack Mercer @ 9/08/2005 05:58:00 PM


CONGRESS
The following was more important to Congress than the New Orlean's levees: $50 Million for an indoor rainforest in Iowa. (Total cost will be $280 M)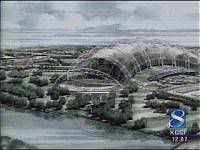 Also, $9.5 Million for Alaska Conveyance $5 Million for Tongass National Forest $16.7 Million for the Bonneau Ferry $7.2 Million for agriculture programs in Appropriations Committe Ranking Member Robert Byrd's state of West Virginia for agriculture waste utilization to poultry litter composting $4 Million for volcano monitoring And the list goes on.
posted by Jack Mercer @ 9/08/2005 05:45:00 AM


DUH
ABC News: Who's to Blame for Delayed Response to Katrina?: "NEW ORLEANS, Sept. 6, 2005 - In New Orleans, those in peril and those in power have pointed the finger squarely at the federal government [BUSH]for the delayed relief effort. But experts say when natural disasters strike, it is the primary responsibility of state and local governments, not the federal government to respond. " [] Insert above added by News Snipet. PREDICTION: The "left" had to eventually fall back on the "WMD" argument and repeat this over and over again to justify the position they assumed "after they voted against the war after they voted for the war". The "WMD argument" for the left to save face this time will be the "levee funding" argument. Expect it to become all about the "levee funding". You heard it first here on the News Snipet. P.S. Several things to debunk the levee argument: 1. The Army Corp of Engineers said that regardless of cuts the levees would not have been constructed to sufficient strength for years to come. 2. The levees were never a priority of the Democrat leadership of the local or state officials who were in charge of such. 3. Congress cut the levee budget. 4. There has been more federal funds spent on the levees under Bush than there were in Clinton's entire 8 years.
posted by Jack Mercer @ 9/08/2005 05:40:00 AM


LEFTISTS ARISE!

If the "left" continues to let groups like Moveon.org or individuals like Ted Kennedy speak for them then you can expect to crash and burn. Left 'bloggers should be reacting with outrage against these people, because they hurt you far FAR more than right-wing wackoes ever could. Get with it my "left" friends--its YOUR credibility that is on the line. USATODAY.com - Group's TV ad uses storm's aftermath to target Roberts By Mark Memmott, USA TODAY The televised images of poverty-stricken evacuees from Hurricane Katrina are part of a provocative, last-minute effort by a liberal interest group to divert federal Judge John Roberts' path to confirmation as chief justice. 'We believe John Roberts' record on civil rights ... is clearly not the direction our country needs to head now,' a MoveOn.org spokesperson said."
posted by Jack Mercer @ 9/08/2005 05:05:00 AM


City Of New Orleans Emergency Preparedness : Hurricanes
Wednesday, September 07, 2005
City Of New Orleans Emergency Preparedness : Hurricanes: "Authority to issue evacuations of elements of the population is vested in the Mayor. By Executive Order, the chief elected official, the Mayor of the City of New Orleans, has the authority to order the evacuation of residents threatened by an approaching hurricane. Evacuation procedures for special needs persons with either physical or mental handicaps, including registration of disabled persons, is covered in the SOP for Evacuation of Special Needs Persons. Major population relocations resulting from an approaching hurricane or similar anticipated disaster, caused the City of New Orleans Office of Emergency Preparedness to develop a specific Hurricane Emergency Evacuation Standard Operating Procedures, which are appended to the Comprehensive Emergency Management Plan. The SOP is developed to provide for an orderly and coordinated evacuation intended to minimize the hazardous effects of flooding, wind, and rain on the residents and visitors in New Orleans. The SOP provides for the evacuation of the public from danger areas and the designations of shelters for evacuees. "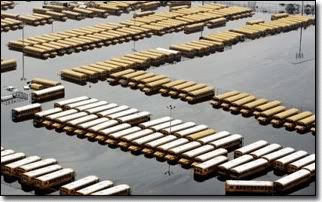 C. New Orleans Police Department * Ensure orderly traffic flow. * Assist in removing disabled vehicles from roadways as needed. * Direct the management of transportation of seriously injured persons to hospitals as needed. * Direct evacuees to proper shelters and/or staging areas once they have departed the threatened area. * Release all public information through the ESF-14, Public Information. D. Regional Transit Authority * Supply transportation as needed in accordance with the current Standard Operating Procedures. * Place special vehicles on alert to be utilized if needed. * Position supervisors and dispatch evacuation buses.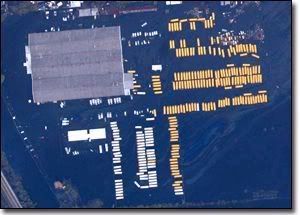 posted by Jack Mercer @ 9/07/2005 05:14:00 AM


HYPOCRITS!
Tuesday, September 06, 2005
Times-Picayune Wants FEMA Officials Out - Yahoo! News: "Louisiana's largest newspaper is lashing out at the federal government's response to Hurricane Katrina. In an open letter to President Bush, the Times-Picayune is calling for every official at the Federal Emergency Management Agency to be fired -- especially director Michael Brown. The editorial says 'We're angry, Mr. President, and we'll be angry long after our beloved city and surrounding parishes have been pumped dry.' The newspaper goes on to say 'Our people deserved rescuing. Many who could have been were not. That's to the government's shame.'" But the TIMES-PICAYUNE published a story on July 24, 2005 stating: City, state and federal emergency officials are preparing to give a historically blunt message: "In the event of a major hurricane, you're on your own." Staff writer Bruce Nolan reported some 7 weeks before Katrina: "In scripted appearances being recorded now, officials such as Mayor Ray Nagin, local Red Cross Executive Director Kay Wilkins and City Council President Oliver Thomas drive home the word that the city does not have the resources to move out of harm's way an estimated 134,000 people without transportation." "In the video, made by the anti-poverty agency Total Community Action, they urge those people to make arrangements now by finding their own ways to leave the city in the event of an evacuation. "You're responsible for your safety, and you should be responsible for the person next to you," Wilkins said in an interview. "If you have some room to get that person out of town, the Red Cross will have a space for that person outside the area. We can help you."
posted by Jack Mercer @ 9/06/2005 06:43:00 PM


LET'S HOPE AMERICANS CONTINUE TO SEE THROUGH THE DISPASSIONATE LEFT
It breaks my heart to see the suffering of my brothers and sisters in the Gulf States. Many on the left, who view Katrina as a political opportunity, have no idea how much they can potentially hurt the victims of this disaster. Not much traction with the abuse - The Washington Times, America's Newspaper: "George W. finally gets it -- in more ways than one. The tardy president was back on the Gulf Coast yesterday, bucking up the spirits of the damned and stiffening the resolve of the slackers. He's getting it as well from his critics, many of whom can't believe their great good luck, that a hurricane, of all things, finally gives them the opening they've been waiting for to heap calumny and scorn on him for something that might get a little traction. Cindy Sheehan is yesterday's news; she couldn't attract a camera crew this morning if she stripped down to her step-ins for a march on Prairie Chapel Ranch. " Please read the whole article and pass it along. Please let your friends and family know that it is only a few who would turn this into a venue for political profit. Such profiteering from hatred must not be allowed to affect what we do for those who suffer.
posted by Jack Mercer @ 9/06/2005 05:30:00 AM


The American Thinker
Monday, September 05, 2005
The American Thinker: "New Orleans, the tragedy As Hurricane Katrina headed toward New Orleans, sticklers for the actual meaning of words told us that it would be wrong to label the impending disaster a tragedy. That term, with its origins in drama, refers to horrible consequences produced out of the flaws in human nature. A hurricane is a force of nature, and cannot by definition be 'tragic' no matter how horrible the outcome. The drama unfolding in New Orleans, however, is now officially a tragedy. Katrina wrought destruction, but the consequences most horrifying us today are the result of human folly. "
posted by Jack Mercer @ 9/05/2005 07:18:00 PM


KATRINA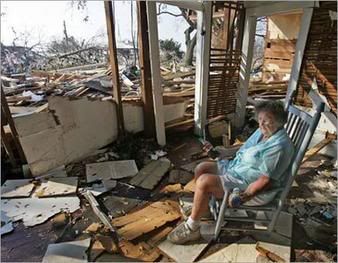 Three kinds of people have been revealed in the United States in the wake of Katrina. First the heroes who have jumped in with prayers and support. Second, those sitting on the sidelines waiting for others to help. Third, those who would exploit the agonizing pain,suffering and loss of others to advance their own political or ideological agenda. Which one are you?
posted by Jack Mercer @ 9/05/2005 06:42:00 PM


HOWARD WEIGHS IN
Thursday, September 01, 2005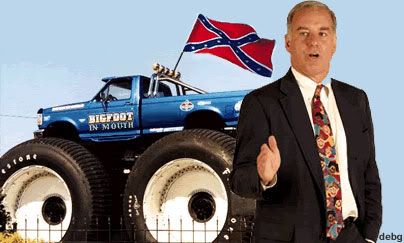 At first I wondered is this guy THAT dumb? And then I realized, no, probably not--but he is counting on his constituents to be. "Democratic National Committee Chairman Howard Dean issued the following statement reminding President Bush that in case he hadn't noticed, ordinary Americans have been doing their part. They have been making sacrifices, they have been suffering. Meanwhile President Bush has failed to rein in skyrocketing gas prices. Now, in the wake of Hurricane Katrina, as Americans pull together to do their part, and gas prices again explode, Chairman Dean suggested that perhaps it's time for President Bush to finally use whatever influence he may have to call on his friends and campaign contributors in the oil and gas industry to bear their fair share of the burden: "Under the Bush Presidency over the past five years we've seen skyrocketing gas prices and oil companies reaping record profits, while ordinary Americans struggle to pay their bills -- yet the President has seemingly looked the other way. Americans are always willing to shoulder their fair share of the burden, and they have been. Now it's time for the President to step up and put the needs of the American people ahead of profits for his pals in Big Oil. So while he's asking ordinary Americans to do more, he ought to show some real leadership, and call on his friends in Big Oil to join in the sacrifice and stop gouging American families at the gas pump" If one is lucky, a solitary fantasy can totally transform one million realities. Maya Angelou
posted by Jack Mercer @ 9/01/2005 06:26:00 PM


HEADLINES FROM THE FAR LEFT
Is this widespread? Do Democrats use everything for political advantage? Is this any longer the party of compassion? Here are some of the headlines: Timeline that outlines the fate of both FEMA and flood control projects in New Orleans under the Bush administration ____________________________________________ Biloxi Newspaper Rips Relief Effort, Begs for Help By Greg Mitchell ____________________________________________ Waiting for a Leader Published: September 1, 2005 George W. Bush gave one of the worst speeches of his life Wednesday, especially given the level of national distress and the need for words of consolation and wisdom. ____________________________________________ Funding cuts led way to lesser levees By Andrew Martin and and Andrew Zajac Washington bureau Published August 31, 2005, 10:24 PM CDT WASHINGTON -- Despite continuous warnings that a catastrophic hurricane could hit New Orleans, the Bush administration and Congress in recent years have repeatedly cut funding for hurricane preparation and flood control. _____________________________________________ Bush has slashed Clinton's Disaster Mitigation Program. _____________________________________________ Thread title: New Orleans district, U.S. Army Corps of Engineers Cut by Bush _____________________________________________ Bush Cut Hurricane, Flood Protection Funding to New Orleans _____________________________________________ The News Snipet still maintains that Hurricane Katrina was started by Bush.
posted by Jack Mercer @ 9/01/2005 05:45:00 PM


PAT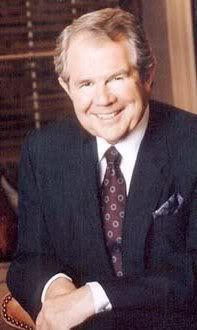 PORTSTEWART, Northern Ireland - Word of Pat Robertson's outrageous remarks recommending the assassination of Venezuelan President Hugo Chavez has reached this small seacoast town. A local man asked me what I thought of his comments. "Not much," I replied with some embarrassment. I'm sure the non Christian world is having a fine time ridiculing this latest example of un-Christ-like behavior. Robertson has made other remarks over the years about all sorts of things that have nothing to do with the gospel in which he says he believes. He is not alone. On the right and on the left, ordained and self-proclaimed "reverends" and honorary "doctors" appear to spend more time trying to reform a fallen and decaying world through politics and earthly power than they do promoting and proclaiming the ultimate answer to that fallenness. While these apostles of political parties and personal agendas have every right to make fools of themselves, they are enabled in their foolishness by millions of people who blindly send them money. These money-senders are looking in the wrong place for their deliverance. While paying lip service to eternity, they seem to prefer immediate political gratification. Few would pay attention to political preachers if these ministers did not have access to television and radio. And they would not have TV programs if people did not send them money which, in addition to buying TV time, is used to set most of them up in lifestyles that resemble the "rich young ruler." Jesus told the ruler to "sell everything you have and give to the poor, and you will have treasure in heaven" (Luke 18:22), but many TV preachers seem to expect you to sell what you have and give to them. Much of what is proclaimed as God's will on TV and in fundraising appeals is false religion. People who respond with checks are either ignorant or willfully disobedient to what their spiritual commander-in-chief and the early apostles taught and practiced. One of the great pronouncements on a Christian's relationship to the world is contained in 1 John 2:15-17: "Do not love the world or anything in the world. . For everything in the world - the cravings of sinful man, the lust of his eyes and the boasting of what he has and does - comes not from the Father but from the world. The world and its desires pass away." Too many Christians think if they shout loud enough and gain political strength the world will be improved. That is a false doctrine. I have never seen anyone "converted" to a Christian's point of view (and those views are not uniform) through political power. I have frequently seen someone's views changed after they have experienced true conversion and then live by different standards and live for goals beyond which political party controls the government. Repeatedly in the Scriptures, which TV ministers regularly and selectively quote, are teachings, admonitions and commands that are antithetical to the high-octane rhetoric spanning the ideological and theological spectrum - from Pat Robertson to Jesse Jackson. Here is a partial list: God's strength is made perfect in human weakness; humble yourself and God will exalt you; he who would be a leader among you must first be your servant; love your enemies; pray for those who persecute you; pray in secret, not publicly; give to the poor; God has chosen the foolish things of the world to confound the wise; the last place at the table; the widow's mite (the message is that she gave all she had, not great wealth); the mustard seed (about the smallest amount of genuine faith); the washing of feet (as demonstrated by Jesus). These virtues are virtually absent among the "resounding gongs and clanging cymbals" one sees on TV. If people who bear the label "Christian" want to reduce these embarrassments, which interfere with the proclamation and the hearing of "true religion," they should refrain from sending money to TV preachers and contribute more to their local church. Local giving not only would allow the giver to better monitor how the money is spent, but also, if the pastor occasionally says something he should not have said, the embarrassment will remain within the walls and not be a rhetorical shot heard around the world. Pat Robertson eventually apologized for his remarks about assassinating Hugo Chavez. His penance should be to retire and to take his bombastic conservative and liberal colleagues with him. Cal Thomas
posted by Jack Mercer @ 9/01/2005 05:23:00 AM


About Me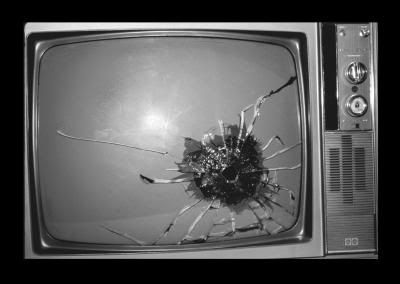 Name: Jack Mercer
Home:
About Me:
See my complete profile

"Snipet" (pronounced: snipe - it) is not a word.It is a derivative of two words: "Snipe" and "Snippet".




Miriam Webster defines Snipe as: to aim a carping or snide attack, or: to shoot at exposed individuals (as of an enemy's forces) from a usually concealed point of vantage.




Miriam Webster defines Snippet as: : a small part, piece, or thing; especially : a brief quotable passage.




In short, "Snipets" are brief, snide shots at exposed situations from a concealed vantage point.

WARNING! With due reverence to the Bill of Rights and the First Amendment there is NO comment policy on the News Snipet.

Other things
Archives
Politics
Template by