PREPARE!
Do Something!
Other things
"
Other things
A FEW NEW VISITORS
Just a quickie post since the Snipet is seeing a few welcomed new visitors. First, the Snipet does not moderate comments and we get some doozies! Periodically we post this: "Snipet" (pronounced: snipe - it) is not a word.It is a derivative of two words: "Snipe" and "Snippet". Miriam Webster defines Snipe as: to aim a carping or snide attack, or: to shoot at exposed individuals (as of an enemy's forces) from a usually concealed point of vantage. Miriam Webster defines Snippet as: : a small part, piece, or thing; especially : a brief quotable passage. Jack Mercer, therefore, defines "Snipets", as: brief, snide shots at exposed situations (not individuals--although sometimes this happens to) from a concealed vantage point. (Although as Jack ages Snipets become less brief). In short: thinly veiled (and sometimes overt) sarcasm, satire and mockery. Of course, we all know that the biggest laugh is Jack! In short, approach what you read on this site with an open mind and mirthful nature. Disagree or agree, anyone can become a News Sniper
posted by Jack Mercer @ 5/31/2006 10:04:00 AM


IDEOLOGICAL
For a long time the Snipet posted situations and articles demonstrating that the ideological left was as infused with hatred and violence as the ideological right. They are of the same mindset, just have differing focus. For instance, an ideological right winger would kill someone for killing an unborn child whereas and ideological left winger would kill someone for harming a tree or baby seal. I continue to visit a site I was banned from (as I continue to visit all of them that have banned me for "sedition":) who posted the following article: Will Durst: Impeachment? No. Impalement! | The Progressive Interesting that the site calls itself "The Progressive". Is this progress?
posted by Jack Mercer @ 5/30/2006 07:37:00 AM


Hastert's Folly
Friday, May 26, 2006
U.S. House Speaker Dennis Hastert is making a fool of himself by continue to insist that the search warrant served on a Congressman's office violated the constitutional separation of powers. The text of the Constitution to which Hastert and others is this provision in Article I, Section 6: "They shall in all cases, except treason, felony and breach of the peace, be privileged from arrest during their attendance at the session of their respective houses, and in going to and returning from the same;" First, the Congressman in question is being investigated for a felony. Second, the search warrant did not constitute an arrest. Third, it was served on a Saturday evening, when Congress was not in session. The entire foundation of Hastert et al's claim rests on the fact that it is unprecedented. So what? In a guest column in the USA Today, Hastert wrote "Justice Department officials now insist that this specific case required them, for the first time, to conduct a search. I regret that when they reached this conclusion, they did not work with us to figure out a way to do it consistently with the Constitution." President Bush has ordered that the documents seized from the office of Rep. William Jefferson (D-La.) be sealed for 45 days while his Justice Department settle the dispute with the house. That gave Hastert a 45-day period to back off of his ridiculous objection gracefully. He's off to a very bad start. Ralph Bristol
posted by Jack Mercer @ 5/26/2006 10:24:00 AM


JUST VOTE-----NOT!
Thursday, May 25, 2006
For as long as I can remember, people have bemoaned the poor turnout we have for elections in the United States. Sometimes, for local primary elections, the turnout is barely in the double digits. Since 1948, even in Presidential elections, turnout has never reached the 2/3rd mark – ranging over the years from 52 to 64 percent. In 2004, it was on the high side – 60 percent. Back in my young, more naïve years, I joined the cacophony of voices urging people to do their civic duty and vote. Not any more. For me, it's simple math. The fewer people vote, the more my vote counts. If I could elect members of congress and the statehouse all by myself, I would, so why would I want to dilute my vote? I don't care whether my member of congress represents a majority of the people in my district. I care whether he agrees with me. In Arizona, a political activist who has run unsuccessfully for Governor and for the state legislature, is spearheading a drive to turn Arizona elections in to a lottery, in which one voter would win $1 million. Dr. Mark Osterloh, a Tuscon ophthalmologist, and other supporters have gathered 185,903 signatures of registered voters, well over the 122,612 required for a ballot initiative. Under the plan, the $1 million awarded to one randomly selected voter after each election would come from unclaimed Arizona Lottery prize money. A voter could get one entry in the drawing for voting in the primary and another for the general election. His purpose is to increase voter turnout. If people stand the chance to win $1 million by voting, they are more likely to vote. He's right of course. There are plenty of people who won't dislodge their backsides from the couch to cast a ballot, but would gladly do so for even a slim chance of winning $1 million. Who can blame them? What has more value to you – that Governor Sanford wins re-election or that you win $1 million? That's pretty much a no-brainer. If people don't want to vote for the right reason – that they care who wins – I don't want them voting at all. Actually, I'd prefer they just let me pick the winners, but I at least recognize their right to offset my superior choice if they feel they really must. But do we have to tolerate those who don't care about the outcome – and only want to win the money? They are either going to be voting "blind" or voting for someone who promises to give them things – things that you and I pay for. I can hear the commercials now. "Vote for me. Even if you don't win $1 Million, I'll vote to give you more of your neighbor's money." They won't be quite that transparent of course, but that will be the winning message for those who vote just to win the lottery. High voter turnout is highly overrated. In the absence of gimmicks and "get out the vote" drives, we always have exactly the right amount of voter turnout – that is, the people who care vote. Those who don't care stay home. That's the way it should be. Whether you stay home or vote on Election Day, you are doing exactly what you should be doing. Don't let anyone shame you or trick you into doing otherwise, and if you do care who wins elections, vote "no" on turning elections into lotteries.
posted by Jack Mercer @ 5/25/2006 10:37:00 AM


THE JIM BAKER/JIMMY SWAGGERT OF POLITICS
Al Gore & entourage took 5 cars to travel the 500 yards from hotel to screening of global warming pic in Cannes...
posted by Jack Mercer @ 5/22/2006 10:31:00 AM


ENGLISH
If insisting on English being the national language of the U.S. is "silly," as Cokie Roberts proclaimed on ABC's Sunday morning program or "racist," as Senate Minority leader Harry Reid claimed last week, that certainly doesn't say much for the rest of the world. The Associated Press reports: Some 158 nations have included a specific measure in their constitutions promulgating one or more national languages, according to a survey by Eduardo Faingold, a professor at the University of Tulsa. The United States is one of the relatively few without such a measure. Why does language matter so much? Is it about preserving a common culture? Maybe, but I suspect it's more about power. The AP story quotes a couple of other college professors. Walt Wolfram, a social linguist at North Carolina State University -- "Language is never about language," "Why should it be any different in the United States?" Dick Tucker, an expert on language education, planning and policy at Pittsburgh's Carnegie Mellon University – "I think it's a worry about who will continue to have political and economic influence." Consider the case of the Omaha grocer, No Frills, in Omaha. Manager Dick O'Donnell decided a few years back to brush up on his Spanish to help him with the store's growing number of Latino shoppers. Now, No Frills is making Spanish mandatory for all managers, pharmacists and butchers at the south side Omaha store. The company will pay for all classes, including overtime. Managers who don't want to learn Spanish have the option of transferring to other stores. No Frills President Rich Juro insists, "This is not a political issue at all, this strictly taking care of business." It's not unusual for business owners and employees to have to learn new skills to keep their jobs or to get ahead. It's also not unusual to meet resistance. I remember when the newsroom at WGEM-TV in Quincy, IL first replaced typewriters with computers. One reporter, who was nearing retirement, couldn't adjust to the change. She had a nervous breakdown and committed suicide. That's an extreme example, but it's not unusual for workers to resist change or find it hard to develop the new skills necessary to keep up or get ahead. But learning Spanish is not just another necessary skill. It is a skill necessitated by a growing Latino influence. Businesses that tell you to "press one for English and two for Spanish" are doing exactly what the Omaha grocer is doing. They are catering to a new set of customers with new demands. These new customers are forcing change (and people are naturally resistant to change) and they are forcing many people to learn new skills. Not only does that inconvenience us, it means they are gaining power, and power, unlike the economy, is relatively static – that is, when someone gains power, someone else loses it. Finally, we don't know what this loss of power is going to mean. We don't know what the new immigrants will do with their power. Will they use it against us? Will they be liberals or Marxists, or worse? Fear of the unknown is also very common. It is much easier to imagine the worst than the best – especially in government and politics, which so often disappoints. The "English is our national language" debate provides a convenient market basket for all of these issues and fears, and it's neither "silly" nor "racist." The issues are real and substantive. The fears are justified. But there are also practical, less emotional reasons that English should not just be the national language, but the official language of the United States. One is that English is the international language of commerce. If you are going to thrive, not just survive, in the United States, you must know how to speak English fluently. Spanish speaking people may have enough buying power and political power to force businesses and government agencies to cater to them, but they will never run those businesses and agencies if they don't speak English. Finally, one cannot fully assimilate into a country without learning to communicate with other citizens of the country. Imagine being adopted into a family and not being able to communicate with your new parents or siblings. The same is true for a country. One common language is necessary for any country that is going to resolve its differences peacefully, and especially for a democratic country that believes in open, public debate as the precursor to public policy. It's a small example, but a person who can't speak English can't even call the Ralph Bristol Show and tell my why they think I'm wrong about the need to learn English. The "English is the national language" amendments to the Immigration Reform bill in the Senate are both largely symbolic. They should go farther, and make English the "official language" of the United States. If fact, it should be in the Constitution, and all government agencies on all levels should conduct business in English only. That's not discrimination. It's not silly and it's certainly not racist. It's simply a tool to achieve the many benefits that accompany the ability to speak English in the United States. If it's not asking too much that No Frills managers learn to speak Spanish, it's certainly not asking too much that immigrants to the United States learn to speak English. Ralph Bristol (www.ralphbristol.com)
posted by Jack Mercer @ 5/22/2006 10:15:00 AM


OF BUSH AND THE DAVINCI CODE
Peggy has impressed me of late. OpinionJournal - Peggy Noonan: " do not understand the thinking of a studio that would make, for the amusement of a nation 85% to 90% of whose people identify themselves as Christian, a major movie aimed at attacking the central tenets of that faith, and insulting as poor fools its gulled adherents. Why would Tom Hanks lend his prestige to such a film? Why would Ron Howard? They're both already rich and relevant. A desire to seem fresh and in the middle of a big national conversation? But they don't seem young, they seem immature and destructive. And ungracious. They've been given so much by their country and era, such rich rewards and adulation throughout their long careers. This was no way to say thanks. I don't really understand why we live in an age in which we feel compelled to spoof the beliefs of the followers of the great religions. Why are we doing that? Why does Hollywood consider this progressive as opposed to primitive, like a pre-Columbian tribe attacking the tribe next door for worshiping the wrong spirits? "
posted by Jack Mercer @ 5/18/2006 09:09:00 AM


TWO KINDS OF PEOPLE
Wednesday, May 17, 2006
I hope, deep down, I am like this one:
posted by Jack Mercer @ 5/17/2006 08:09:00 AM


CONGRESS
Tuesday, May 16, 2006
Congress IMPLEMENTS immigration bill:
posted by Jack Mercer @ 5/16/2006 02:42:00 PM


CONGRESS
A member of Congress contemplates illegal immigration:
posted by Jack Mercer @ 5/16/2006 02:33:00 PM


HILLARY QUOTE OF THE WEEK
Monday, May 15, 2006
I have gone from a Barry Goldwater Republican to a New Democrat, but I think my underlying values have remained pretty constant; individual responsibility and community. I do not see those as being mutually inconsistent.
posted by Jack Mercer @ 5/15/2006 03:33:00 PM


New Blogging Direction
To relieve a little of the political pressure that exists in this world, the News Snipet will periodically post an insightful or thought provoking video. Here is todays: These cats are like politicians. They are saying what they think you want to hear, but do they actually mean it?
posted by Jack Mercer @ 5/15/2006 10:55:00 AM


TO THE BORDER!
Those media folks who report from the White House sure are smart. Not only do they know what the President is going to say before he says it. They know why he's going to say it. Since we know all this in advance, I'm not sure why the President will even bother to give his primetime speech to the nation tonight. It will all be old news by then. Knowing what he's going to say – or at least the highlights – is not that hard. For some reason, Presidents like to leak some highlights of their speeches before they actually give them. Maybe it's so they can know what reaction to expect, and begin to prepare the rebuttal. Maybe they think it will entice more people to listen – kind of like a movie trailer is supposed to get people to the theater. Therefore, we can be fairly certain that the President is going to announce that he's going to send thousands of National Guard troops to help secure the Mexican border. How many thousands? We don't know. More than one, less than ten. Knowing that is not good enough for White House reporters and pundits. We have to know why. He will tell us why, but why should we wait? His explanation will be "spin" anyway. The White House reporters know that real truth, and it is this. He's doing it to appease the immigration hardliners in his party (mislabeled "conservatives" by the media) so they will vote for a more complete immigration package. If he does what they want, "first, secure the border," then they are more likely to do what he wants – that is, vote for an immigration reform bill that provides a method for illegal immigrant workers (or at least some of them) to stay in the country and follow a path to legal immigration status. The President will give a different explanation for his actions of course, but the Washington media is not going to be fooled by his explanation. They know what he's really up to. Actually, this time, they are probably right – or pretty close to being right, and it might work to change a few votes if that's what he's trying to do, but I doubt it will change many minds among the real hardliners. I hear from the hardliners all the time. You may be one of them. I haven't heard too many say that if you "first secure the borders," they will accept what they call "amnesty" for the illegals who are already here. It's not actually "first, secure the borders." It's "Secure the borders – period." Most members of congress are not quite as intransigent as the hardliners they represent, so my guess is – and it's only a guess – that the President will be able to move enough votes to get the "guest worker" program he wants. But his National Guard action won't give much political cover to his Republican friends in Congress
posted by Jack Mercer @ 5/15/2006 10:49:00 AM


HILLARY QUOTE OF THE WEEK
Friday, May 12, 2006
Leading up to her victory in the 2008 elections, the Snipet will publish a Hillary Clinton quote each week. Here's the first: "The unfettered free market has been the most radically disruptive force in American life in the last generation."
posted by Jack Mercer @ 5/12/2006 06:56:00 AM


INTERESTING
Friday, May 05, 2006
Cato Daily Dispatch: "Let 'Em Gouge 'After airing complaints about high gasoline prices and oil companies' high profits, the House voted for measures to prevent gasoline price gouging and to help speed the construction of more refinery capacity,' the Wall Street Journal reports. In 'Let 'Em Gouge: A Defense of Price Gouging,' Cato senior fellows Jerry Taylor and Peter Van Doren write: 'Why the constant government investigations only when prices are rising? Because to many, pricing significantly above cost is immoral and politicians and the press are in the business of finding immoral dragons to slay. '[I]n reality, price gouging -- like spinach -- may be unappealing at first bite but it's good for everyone in the long run. Gougers are sending an important signal to market actors that something is scarce and that profits are available to those who produce or sell that something. Gouging thus sets off an economic chain reaction that ultimately remedies the shortages that led to the gouging in the first place. Without such signals, we'd never know how to efficiently invest our resources. Moreover, we'd have no idea what to conserve. It's no exaggeration to state that, without such price signals, our economy would look like Cuba's.'"
posted by Jack Mercer @ 5/05/2006 10:54:00 AM


Maybe it's a language problem
Monday, May 01, 2006
To my Latino friends who speak and read some English: please note – the words "boycott" and "blockade" do not mean the same. One is a fine, albeit frequently misguided, American tradition. The other is an infringement on MY rights, and it could get you run over, punched, arrested or all three. Travelinc.com issued an alert Friday, warning of some possible travel disruptions today on the day of the "National Day Without Immigrants" boycott. The alert warned, "Boycott leaders plan to 'shut down' several urban centers." · Unconfirmed reports indicate that city taxi drivers may try to block all street access to and from LAX International Airport. · In Queens, NY, protesters are planning to form "human chains" to block major thoroughfares. · In Orlando, FL, a "human chain" is also being organized to block the Ringling Causeway Also last week, the AP reported that the leader of one truck drivers' union said his drivers may try to block freeway traffic in California to show support of the boycott. Apparently, this language barrier is more serious than I thought. Organizers and supporters of the National Day Without Immigrants obviously don't understand English, so let me help – as it is my nature to be helpful. The word "without" indicates the absence of something. It does not mean that something is where you don't want it to be. If my home is "without" water, it doesn't mean that my basement is flooded. A day "without" immigrants does not mean that immigrants are clogging streets and otherwise getting in people's way. It means just the opposite. It means they are nowhere to be found. If the news stories and travel alerts are accurate, you won't be able to swing a stick without hitting an immigrant today. If the immigrants are not careful, some people may test my thesis. I'm not encouraging that, mind you. The word "boycott" means: "to refuse to deal with." We in America respect your right to do that. If you don't want to deal with us today, we won't hold that against you. What you seem to be planning is a "barricade." That means you are trying to "block or stop" us from going about our normal business. That we can't, don't and won't respect. We will hold that against you. Not only won't we respect your barricade, we may attempt to break through it. Someone could get hurt. In addition to a better understanding of the meaning of important words, there's something else you should know about Americans. We don't take kindly to people who impede our progress. We honk our horns and swear at "slow" people who drive 65 miles an hour in the left lane of the highway. We sneer at people who slow us down by using their credit card instead of cash to buy one bottle of water in the checkout line at the supermarket. If you think you can influence us in a positive way by blocking our access to the airport or disrupts our commute to work, you are delusional. You have been spending too much time in the hot sun. You are probably reading this too late to make a difference, but if not, I strongly advise that you go back to plan "A," a boycott – a day without immigrants. Oh, and you might step up those efforts to learn to speak English. When you don't understand some basic words, you can easily head off in the wrong direction.
posted by Jack Mercer @ 5/01/2006 10:05:00 AM


Pseudo Truth
Subtitle: When 'Blogs Reference 'Blogs Blogging was given credibility when several individuals analyzed forged documents used by some to perpetrate fraud against President Bush. Not long after there was a blog explosion, and Blogger, Wordpress, Ebloggy and many other sites saw a dramatic increase in 'blogs of all type. Many predicted the extinction of traditional journalism, but many journalists (John Leo amongst them) indicated that there were reasons this wouldn't be so. One that I recognize is the "alternate" realities that 'blogs are creating. Many 'bloggers, in an attempt to bibliograph and offer credibility to their stories are referencing other 'blogs as sources. This in and of itself may not be wrong, but when one begins to use other 'blogs as hard evidence to support assertions it creates one huge psuedo truth that seems to circulate within 'blogdom (it almost has the qualities of mass hypnosis, where one lie is promoted and it is promoted quickly along electronic lines establishing it in many minds as "truth"). Of course this is not the main reason for concern so much that many seem to rely on 'blogs of one form or another for their primary source of news. I visit one site frequently that basically repeats what other 'blogs are saying--even referencing the blog articles. 'Blogging is a wonderful thing and it has given people wonderful opportunities, but placing blind faith in what they say and what they promote may put you in a universe far different than the real one.
posted by Jack Mercer @ 5/01/2006 03:27:00 AM


About Me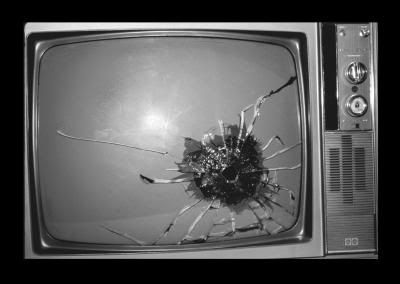 Name: Jack Mercer
Home:
About Me:
See my complete profile

"Snipet" (pronounced: snipe - it) is not a word.It is a derivative of two words: "Snipe" and "Snippet".




Miriam Webster defines Snipe as: to aim a carping or snide attack, or: to shoot at exposed individuals (as of an enemy's forces) from a usually concealed point of vantage.




Miriam Webster defines Snippet as: : a small part, piece, or thing; especially : a brief quotable passage.




In short, "Snipets" are brief, snide shots at exposed situations from a concealed vantage point.

WARNING! With due reverence to the Bill of Rights and the First Amendment there is NO comment policy on the News Snipet.

Other things
Archives
Politics
Template by