PREPARE!
Do Something!
Other things
"
Other things
HILARYCARE
Thursday, March 29, 2007
Hillary has advantage in healthcare debate Ralph Bristol March 27, 2007

Ignore Hillary Clinton at your own risk. At campaign stops in Iowa and elsewhere, the frontrunner for the Democratic nomination for president is telling her audience that "We're going to have universal health care when I'm president - there's no doubt about that. We're going to get it done." She knows she tried it before and failed, but this time she'll be president, not co-president, and "I believe we're in a better position today to do that than we were in '93 and '94. ... It's one of the reasons I'm running for president."

Make it THE reason she's running for president. If she's elected president, HRC has an excellent chance of moving the U.S. closer to European style socialism than any previous president, save FDR and LBJ.

People are fearful of health insurance companies. It's not just poor people, but some wealthier people too. Health insurance companies have been famous for loving you when you're well, and hating you when you're sick. Once you've lost your insurance, for any reason, you can either be "rated up," meaning you have to pay much more because you have high blood pressure or some other common ailment, or you can be labeled "uninsurable."

This week, the state of California accused Blue Cross of violating state law when it canceled individual health insurance coverage after policyholders got pregnant or sick. The state fined Blue Cross $1 million dollars, the equivalent of a parking ticket for you and me, since Blue Cross's parent company, WellPoint Inc., rakes in $57 billion a year in premiums. WellPoint insists it did nothing wrong. Perhaps it didn't, but the practice improves the environment for the adoption of socialized medicine, euphemistically labeled "universal healthcare."

The healthcare payment system in the United States is sick – very sick, but socialized medicine is exactly the wrong cure. It's the equivalent of trying to lose weight by going on a beer and ice cream diet. It doesn't work. Trust me. I've tried it.

As healthcare expert Devon Herrick correctly testified to Congress recently, "a primary reason why health care costs are soaring is that most of the time when people enter the medical marketplace, they are spending someone else's money." I like to call it OPM (other people's money). Because they are spending OPM, they consume more than they would if they were spending their own money, even if they had plenty of their own money to spend. The more we spend on health care, the more we have to pay in health insurance premiums, the higher the premiums go, and the fewer people can afford health insurance.

The key to controlling health care spending, and lowering health insurance premiums so that more people can afford it, is to require everyone to spend their own money first. Every healthcare decision should cost enough to make us think about that decision at least as much as we would whether to purchase a pair of shoes, and if so, which pair.

Universal healthcare, aka socialized medicine, takes us in exactly the opposite direction. The overall cost of healthcare will go up, but Hillary won't care because taxpayers will pay the bill collectively, and the tax system can easily dump most of the bill on those with "the ability to pay." That's the central tenet of Marxism, which is fully engrained in out federal income tax system, and the Marxist politicians among us want it engrained in out healthcare system as well, just like Europe. They don't care that the cost is more, because they plan to shift most or all of the cost to the top half, third, fourth, or 10 percent of the population.

In time – not much time – the system will become so costly that it will be impossible to pay the bill, so the government will do what all other governments have done with their socialized medicine. They will begin rationing healthcare. Rather than having individuals ration their own healthcare, the government will ration it for us. We will have long waits for routine surgical procedures. Some will be unavailable.

It also won't bother Hillary, and others who think like her, that healthcare is being rationed. At least we are all being treated the same. To a Marxist, it's better that everyone suffer than that some suffer more than others based on different levels of personal success.

I doubt that conservatives and Republicans are ready for the 2008 healthcare debate. Hillary's message is simple – "You go to the doctor, and we'll pay the bill." The conservative rebuttal is not as simple. Voters are rather simple-minded.

The 50% of the people who pay only 4% of federal income taxes would not want that to change. If those same 50% can get the same healthcare as everyone else and pay only 4% of the nation's healthcare bill, do you think they'll take that deal? I do. Hillary does to. She's betting her political future on it. It's not a sure bet, but I won't bet the house against her.

Hillary in 2008
posted by Jack Mercer @ 3/29/2007 07:27:00 AM


SACRIFICES MUST BE MADE...
Monday, March 26, 2007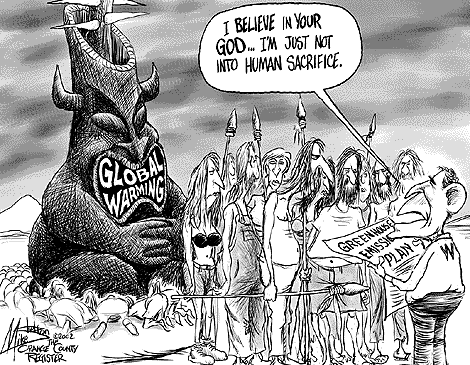 A NEW DILEMMA

Contemporary liberals once again find themselves faced with a moral dilemma of their own making. The latest religion, adopted hook, line and sinker, among urban white atheist liberals is the coming apocalypse, ala man-made global warming.

Something must be done and must be done NOW to appease the Carbon-neutral god!

A good start would be the complete adherence to the GW Koran, aka: the Kyoto Treaty, that their holy prophet, Al Gore, was instrumental in writing. (Through divine inspiration of course).

But...a choice must be made.

The problem is, the GW Koran (aka: the Kyoto Treaty) teaches great sacrifice, almost EXTREME sacrifice. Self-flagellation and denial of a most strict and sacred nature. So extreme that the direct costs may mount into the trillions of trillions of dollars, with indirect costs too numerous and complex to even quantify.

The GW Koran will bring to a jarring halt the growth and independence of developing and third world nations whose populations are stricken by poverty and the death, decay and disease that accompanies it.

But that's ok, the war on poverty and its consignment of millions to an early grave is much less appealing than the appeasement of a faceless and capricious god.

The sacrifice is worth it.

Dilemma solved.

Labels: global warming, man-made global warming, religion
posted by Jack Mercer @ 3/26/2007 03:01:00 PM


GLOBAL WARMING
Friday, March 23, 2007
I RECEIVED THE FOLLOWING EMAIL ACCOMPAINIED BY THE LINK TO THE FOLLOWING VIDEO:

Hi Jack: Thought you would find this interesting. It is a load of [crap], but I thought you would enjoy it because it agrees with you.

I REALIZE THAT VIDEOS OF THIS SORT WILL NOT MAKE ONE BIT OF DIFFERENCE TO THOSE WHO HAVE RELIGIOUSLY EMBRACED THE CURRENT TEACHINGS OF SAINT GORE. JUST LIKE MY DEAR FRIEND WHO SENT ME THIS. AN ACCOUNTANT FRIEND WHO APPARENTLY KNOWS MUCH MORE THAN THE FEATURED SCIENTISTS, CLIMATOLOGIST AND POLICYMAKERS.
posted by Jack Mercer @ 3/23/2007 12:52:00 PM


PORTLAND OREGON, YESTERDAY...
Wednesday, March 21, 2007
WARNING: CONTENT ALERT. THE FOLLOWING CONTAINS LANGUAGE THAT SOME MAY FIND OFFENSIVE.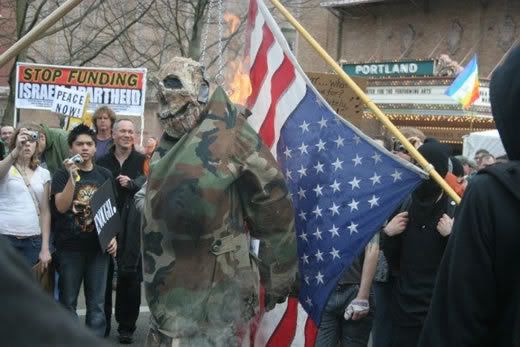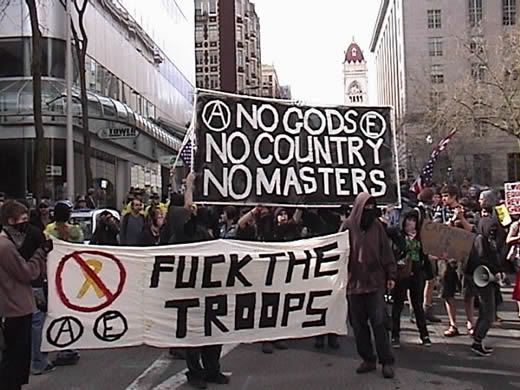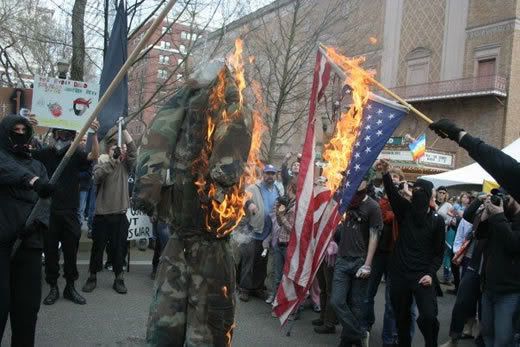 posted by Jack Mercer @ 3/21/2007 02:49:00 PM


MASSIVE PROTESTS
Massive protests were staged throughout the world against terrorist/insurgents in Iraq who used two children to get close to a target, blowing the two children up. While a common practice of Middle-eastern terrorist, it was nonetheless distasteful enough to mobililize hundreds of thou...wait, hundre..uh...tens...anyone?

...

...

There have been no protests against...

Labels: anti-war protestors, terrorists
posted by Jack Mercer @ 3/21/2007 10:12:00 AM


Bush tries to block Democrat witch hunt
Bush tries to block Democrat witch hunt Ralph Bristol March 21, 2007

President Bush is right to try to protect members of his White House staff from having to testify under oath to House and Senate committees who want to rake them over the coals about the firing of U.S. Attorneys. House and Senate committees are expected to approve subpoenas today.

There's no doubt about the Democrats' motives. They want to bring perjury charges against Karl Rove and any other Bush aide on which they can train their sights.

"But," you might ask, "What do they have to fear if they just tell the truth." Oh, I don't know. Maybe we should ask Scooter Libby. Did he lie under oath? A jury found that he did. He said he didn't remember things the same way some members of the news media did. He lost. The whole affair cost him his job, a lot of money in attorney fees, his good reputation, and maybe a few years of freedom.

Why would someone from the Bush White House not want to answer questions under oath from members of a hostile Congress with campaign fire in its nostrils? Gee, I can't think of any good reasons.

The president has offered to have several key members of his administration submit to informal interviews by House and Senate members of both parties, but not under oath. He understands, and is peeved, that some of the answers given to questions initially were wrong. That doesn't mean they were lies. They were more likely misinformed answers. Mistakes are generally not criminal, but Democrats in Congress have their sights set on accusing President Bush's aides, especially Rove, of a crime.

The president should take the subpoena fight all the way. Doing anything less would be throwing loyal aides to the wolves – and for what purpose? The only effect would be to increase the appetite of the Democrats for more blood. This crowd has a single purpose – to destroy President Bush and anyone who stands with him. They will stay on offense as long as they can, because they believe it's the key to victory in 2008. They have their sights set on a Democratic sweep in '08 and they believe destroying the credibility of the head of the Republican Party is the key to that plan.

They don't have any palatable plans for the country, so their only hope is to destroy the reputation of the opposition. That's their game plan for victory in '08. They will sacrifice victory in Iraq for victor in the 2008 elections, and they will sure as heck try to brand innocent people as criminals for the same purpose.

There is nothing abnormal about the firing of the eight U.S. Attorneys. They serve at the pleasure of the president and he can replace them for no other reason than he wants someone else to have the chance to have the job. That is what he did. All presidents have done the same.

Attorney General Gonzales made a mistake when he initially said that the eight were fired for performance reasons. That was simply not true. He may have believed it was true, or he may have given a reflexive answer to what he construed as a politically motivated question that needed a non-political answer. Whatever the case, there is nothing criminal or unethical about the way the matter was handled.

The Democrats in Congress know that, but they also know that if they can get high profile Bush aides under oath and grill them with hostile questions, they may fall into a perjury trap – and that is the Democrats' only wish.

President Bush is rightfully protecting his aides. It will be shameful if he gets no help from his Republican colleagues in Congress.

Labels: Bush, democrats, President Bush
posted by Jack Mercer @ 3/21/2007 10:09:00 AM


LIES
Friday, March 16, 2007
THE AMERICAN PUBLIC SEEMS TO BE AFRAID TO USE THE TERM "LIE" WHEN IT COMES TO SOMETHING LIKE THE MEDIA. WHILE MEDIA BIAS CAN TAKE MANY FORMS, THE BOTTOM LINE IS THAT IT IS ESSENTIALLY A LIE. 84% OF AMERICANS THINK SO. THAT MEANS THAT ALL OF THE NONSENSE YOU ARE READING ABOUT POLITICS, SOCIETY, RELIGION AND ECONOMICS IS A BUNCH OF BOSH. CARE TO RETHINK YOUR POSITION ON PARTY POLITICS, GLOBAL WARMING, THE ECONOMY? NAH, I DIDN'T THINK SO. MEDIA BIAS EXISTS BECAUSE WE LET IT. WE WANT IT, WE BUY IT. WE WOULD RATHER FEEL GOOD THAN BE RIGHT. OH WELL...

Poll: Bias 'alive and well' in press - Nation/Politics - The Washington Times, America's Newspaper: "The vast majority of American voters detect the presence of political bias in the mainstream news media, according to a Zogby poll released yesterday in conjunction with the George Washington University Institute for Politics, Democracy and the Internet. "
posted by Jack Mercer @ 3/16/2007 11:46:00 AM


JUST THE MAN FOR THE JOB!
Thursday, March 15, 2007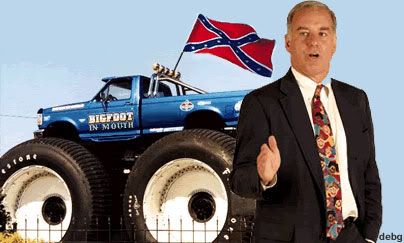 The New Dean Political Plan - Politico.com: "Democratic Party Chairman Howard Dean has been meeting with world leaders to repair 'the extraordinary damage' that the Bush administration has done to America's image and to prepare the way for a new Democratic president."

Labels: democrats, howard dean, redneck
posted by Jack Mercer @ 3/15/2007 12:47:00 PM


GLOBAL, UH, GLOBAL... (PART 2)
Wednesday, March 14, 2007
War on Global Cooling

The World in Peril. We are unanimously convinced that rapid, radical redressment of the present unbalanced and dangerously deteriorating world situation is the primary task facing mankind. Concerted internation measures and joint long-term planning will be necessary to a scale and scope without precedent. This supreme effort is founded on a basic change of values and goals at individual, national and world levels. 1972, Meadows et al.

War on Global Warming

History offers no example of parallel threat on a global, national or even local scale. To "wait and see" invites disaster. Only the long-term threats of global warming, oxygen loss, exhaustion of other basic resources in the oceans and continents as well as the eventual possibility of an earth-asteroid collision demand worldwide action on a similar scale. A worldwide strategic mobilization similar to the effort required by World War II must be developed in the weeks ahead. 1998. UN Working Group of Informatics.

Did I miss Y2K?
posted by Jack Mercer @ 3/14/2007 01:48:00 PM


GLOBAL, UH, GLOBAL...
"We simply cannot afford to gamble by ignoring it. We cannot risk inaction. These scientists who say we are merely entering a period of climatic instability are acting irresponsibly. The indications that our climate can soon change for the worse are too strong to be reasonably ignored."

Lowell Ponte. 1978. The Cooling, pg 237
posted by Jack Mercer @ 3/14/2007 01:43:00 PM


THIS SUMS UP THE ENTIRE ISSUE
IF THIS DOESN'T GIVE YOU THE TRUE PERSPECTIVE OF WHAT WE ARE BEING FED, NOTHING WILL:

James E. Hansen, an environmental scientist, director of NASA's Goddard Institute for Space Studies and a top adviser to Mr. Gore, said, "Al does an exceptionally good job of seeing the forest for the trees," adding that Mr. Gore often did so "better than scientists."

Labels: global warming, man-made global warming
posted by Jack Mercer @ 3/14/2007 10:50:00 AM


HELLFIRE AND DAMNATION - AND THE EXTINCTION OF POLAR BEARS
Monday, March 12, 2007
ABC News: Global Warming Is Not a Crisis
March 9, 2007 — From the Babylon of Gilgamesh to the post-Eden of Noah, every age has viewed climate change cataclysmically, as retribution for human greed and sinfulness. In the 1970s, the fear was "global cooling." The Christian Science Monitor then declaimed, "Warning: Earth's climate is changing faster than even experts expect," while The New York Times announced, "A major cooling of the climate is widely considered inevitable." Sound familiar? Global warming represents the latest doom-laden "crisis," one demanding sacrifice to Gaia for our wicked fossil-fuel-driven ways. But neither history nor science bolsters such an apocalyptic faith.
posted by Jack Mercer @ 3/12/2007 10:39:00 AM


BEAR TODAY, GONE TOMORROW.
Thursday, March 08, 2007
GONE TOMORROW

Study Says Polar Bears Could Face Extinction (washingtonpost.com): "The sea ice in Hudson Bay, Canada, now breaks up 2 1/2 weeks earlier than it did 30 years ago, said Canadian Wildlife Service research scientist Ian Stirling, and as a result female polar bears there weigh 55 pounds less than they did then. Assuming the current rate of ice shrinkage and accompanying weight loss in the Hudson Bay region, bears there could become so thin by 2012 they may no longer be able to reproduce, said Lara Hansen, chief scientist for the World Wildlife Fund. 'Once the population stops reproducing, that's pretty much the end of it,' Hansen said. Arctic residents have already detected changes in polar bears' behavior. Jose Kusugak, president of the Canadian Inuit political association, said at a news conference that within the past two years he witnessed a polar bear 'stock up on caribou' because it was deprived of seals. Hudson Bay residents now complain the bears are coming onto land more often, forced to seek sustenance in a habitat where they are less well adapted. Polar bears are not the only Arctic animals in trouble. The ringed seals that bears eat, and that humans hunt, are also dependent on the sea ice to rest, give birth, nurse and feed. "

WAIT, AREN'T YOU BEARS SUPPOSED TO BE GOING SOMEWHERE?!

ESA LISTING NOT NEEDED FOR POLAR BEARS: Environmental activists have presented only one academic study that shows any negative effect of warming temperatures on polar bears, and only anecdotal evidence of bears drowning and eating each other, says H. Sterling Burnett, senior fellow at the National Center for Policy Analysis.

Other, more comprehensive research suggests the plight of that one population does not reflect the polar bear population trend as a whole:

Since the 1970s, while much of the world was warming, polar bear numbers increased dramatically, from roughly 5,000 to 25,000 bears -- a higher polar bear population than has existed at any time in the twentieth century.

Scientists believe polar bears thrived in the past in temperatures even warmer than at present -- during the medieval warm period 1,000 years ago and during the Holocene Climate Optimum between 5,000 and 9,000 years ago.

Dr. Mitchell Taylor, a biologist with Nunavut Territorial government in Canada says the polar bear population in Canada alone has increased 25 percent from 12,000 to 15,000 during the past decade, with 11 of Canada's 13 polar bear populations stable or increasing in number.

Labels: global warming, man-made global warming
posted by Jack Mercer @ 3/08/2007 03:14:00 PM


Wrong lesson from tragic death
Wednesday, March 07, 2007
Ralph Bristol March 7, 2007 It's a crying shame that a 12-year-old Maryland boy had to die of a toothache, but it's not your fault, and you need not assume any of the blame. It's the boy's parents' fault – no one else's. According to ABC News, the senseless death of the boy "underscores the need for better dental service among U.S. children." Bunk – to put it politely. Dental services for U.S. children are excellent and readily available. What the story underscores is the need for better parenting. ABC reports, "Deamonte Driver's life could have been spared if his infected tooth was simply removed — a procedure costing just $80. "But," the story continues, "the Driver family faced obstacles with Medicaid, poverty, and access to resources." Oh well, sure – they faced obstacles. I don't want to sound self-righteous here, but if my 12-year-old child had an infected tooth, I'd find a way to get him help. I know what it feels like to have a debilitating toothache and I'm not going to let my child suffer for lack of money. No matter how poor I might be, I'll scrape up the money, come hell or high water. My poor parents would have too, and when I was 12, there was no Medicaid program. Maybe it's because there was no Medicaid program that parents raising children before 1965 had no expectation of someone else paying for their children's dental, or other medical, needs. You can bet your last dollar that Deamonte Driver's story will be used over and over to separate productive Americans from more of the money they earn in order to prevent similar tragedies. The money won't solve the problem. Wherever you have negligent parents, you'll find an occasional dead child. The problem is not poverty or lack of free services. The problem is parents who never run out of excuses for failing to take care of their own children. The programs that we invented to overcome "obstacles" such as poverty have increased American dependency on OPM – other people's money, and dependency breeds neglect. More OPM = more neglect = more deaths.

Labels: poverty, social services
posted by Jack Mercer @ 3/07/2007 10:51:00 AM


FROM NBC - THAT HOTBED OF CONSERVATISM
Tuesday, March 06, 2007
NBC: Iraqis Want U.S. to Stay, Anti-War Effort Helping Insurgents Visiting Iraq, NBC Nightly News anchor Brian Williams learned from Army officers that Iraqis want U.S. forces to remain in their country, from NBC News Baghdad reporter Richard Engel that Al-Sadr's insurgents have stepped down and are counting on pressure from anti-war opponents to provide them with victory, and from retired General and NBC News military analyst Wayne Downey that U.S. troops are proud of their mission. Traveling with Lieutenant General Ray Odierno for stories on his Monday newscast, Williams ran a clip of Army Colonel John Charlton proclaiming that Iraqis "do not want us to leave" and a soundbite from Army Lt. Colonel Charles Ferry who asserted: "The people here are very glad to see us." To explain the decreased violence in Baghdad, Engel noted how "the militia decided they fought the U.S. two-and-a-half years ago, didn't have a lot of success. They decided this time they're going to wait it out, see if political pressure in the U.S. can help them win this time." Downey related how "every soldier that I ran across today I asked him: 'How do you feel about what's going on,'" and "without exception....very proud of what they're doing."
posted by Jack Mercer @ 3/06/2007 01:48:00 PM


EVER WONDER WHERE THE NEWS WENT?
More reporters embrace an advocacy role - USATODAY.com: "The 'social journalism' that made Oprah Winfrey an international fairy godmother is the new rage in network and cable news, and it's expanding to other media. Increasingly, journalists and talk-show hosts want to 'own' a niche issue or problem, find ways to solve it and be associated with making this world a better place, as Winfrey has done with obesity, literacy and, most recently, education by founding a girls school in South Africa. Experts say the competitive landscape, the need to be different and to keep eyeballs returning, is driving this trend, along with a genuine desire from some anchors and reporters to do good."
posted by Jack Mercer @ 3/06/2007 11:39:00 AM


UFO'S AND GLOBAL WARMING
Saturday, March 03, 2007
THE MOST CREDIBLE SCIENTIFIC THEORIES ON GLOBAL WARMING TO DATE.

UFO science key to halting climate change: former Canadian defense minister - Yahoo! News: "OTTAWA (AFP) - A former Canadian defense minister is demanding governments worldwide disclose and use secret alien technologies obtained in alleged UFO crashes to stem climate change, a local paper said Wednesday.

'I would like to see what (alien) technology there might be that could eliminate the burning of fossil fuels within a generation ... that could be a way to save our planet,' Paul Hellyer, 83, told the Ottawa Citizen."
posted by Jack Mercer @ 3/03/2007 08:46:00 AM


DUH! ITS FROM THE MARTIAN FACTORIES AND CARS!
Friday, March 02, 2007
Mars Melt Hints at Solar, Not Human, Cause for Warming, Scientist Says Kate Ravilious for National Geographic News February 28, 2007 Simultaneous warming on Earth and Mars suggests that our planet's recent climate changes have a natural—and not a human- induced—cause, according to one scientist's controversial theory. Earth is currently experiencing rapid warming, which the vast majority of climate scientists says is due to humans pumping huge amounts of greenhouse gases into the atmosphere. Mars, too, appears to be enjoying more mild and balmy temperatures. In 2005 data from NASA's Mars Global Surveyor and Odyssey missions revealed that the carbon dioxide "ice caps" near Mars's south pole had been diminishing for three summers in a row.
posted by Jack Mercer @ 3/02/2007 02:29:00 PM


About Me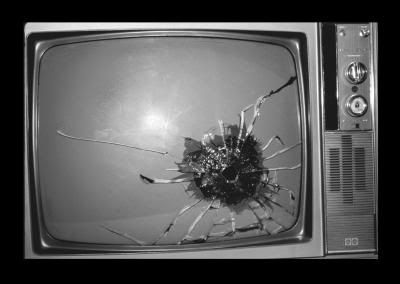 Name: Jack Mercer
Home:
About Me:
See my complete profile

"Snipet" (pronounced: snipe - it) is not a word.It is a derivative of two words: "Snipe" and "Snippet".




Miriam Webster defines Snipe as: to aim a carping or snide attack, or: to shoot at exposed individuals (as of an enemy's forces) from a usually concealed point of vantage.




Miriam Webster defines Snippet as: : a small part, piece, or thing; especially : a brief quotable passage.




In short, "Snipets" are brief, snide shots at exposed situations from a concealed vantage point.

WARNING! With due reverence to the Bill of Rights and the First Amendment there is NO comment policy on the News Snipet.

Other things
Archives
Politics
Template by